---
The Trans Mountain Expansion Project is a key catalyst for a growing body of scientific knowledge about the fate and behaviour of oil in the marine environment.
For example, Trans Mountain's own research found spilled diluted bitumen (dilbit) behaves similarly to conventional heavy crudes and can be recovered from the surface of the water using conventional methods and equipment. Research carried out the same year by three federal agencies reached a similar conclusion.
Since that time, a significant body of made-in-Canada scientific knowledge has grown around those ground-breaking studies. Trans Mountain continues to contribute, directly funding further research projects.
The federal government continues to expand and refine the scope of its research, through Environment and Climate Change Canada (ECCC), Fisheries and Oceans Canada (DFO) and Natural Resources Canada (NRCan).
In a package of evidence to the National Energy Board, the agencies stated they have several ongoing science and research initiatives. "This includes increasing investment in improving safety in the transport of oil products, spill recovery and responses by focusing research on the fate, behaviour and effects of various oil products in different spill conditions and under extreme Canadian climates," they stated.
The submission to the NEB stated federal scientists, in collaboration with other levels of government, academia and the private sector, have made "considerable progress" including publishing more than 60 peer-reviewed papers or conference presentations.
They noted that organisations outside government have also been active, publishing more than 30 additional peer-reviewed papers. As well, an additional 40 peer-reviewed papers and guidance documents have been published on oil fate and behaviour, physical/chemical properties, petroleum forensics, spill countermeasures, field response, remote sensing and oil spill modelling.
As a result of these efforts, federal scientists have developed expertise in physical and chemical properties of fresh and weathered oils, interactions with sediments and shoreline materials, and how these properties change as the oil weathers.
"Additionally, we are better able to predict the fate, behaviour and biological effects of spilled oil, utilising this new knowledge and employing enhanced meteorological and hydrodynamic data in improved spill models."
"These studies and expertise enable federal scientists to provide the information and data necessary to inform oil spill emergency responders, regulators, academics, environmental non-governmental organisations, Canadians and Indigenous Peoples," they added.
So far, they've announced CAN$80 million in new science funding for new partnerships to develop improved knowledge and new technologies, including:
A CAN$45.5 million initiative supporting oil spill research among "the best researchers across Canada and around the world".
CAN$16.8 million to support oil spill research to better understand how oil behaves and degrades in different conditions, including cold water.
CAN$17.7 million towards enhancing ocean models for safer navigation and better spill drift prediction.
The submission to the NEB also notes a Government of Canada investment of CAN$50 million into oil spill response technologies though programmes such as Oil Spill Response Science Program (OSRS) and future programming through the Oceans Protection Plan. This includes support for eight OSRS projects focusing on recovery technologies and processes for the clean-up of heavy oil products in marine environments. These projects are in collaboration with academia, industry and oil spill responders.
Read the article online at: https://www.worldpipelines.com/equipment-and-safety/18022019/trans-mountain-research-into-behaviour-of-oil/
You might also like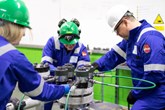 3t EnerMech named regional winner at top engineering awards for the second year in a row.