---
Mark Douglass, Business Development Manager, Lincoln Electric Additive Solutions, USA, demonstrates how to keep operations up and running using metal additive production for valve bodies, components, fittings, and other complex parts.
Time is money, and the long production and transit lead-times to get largescale metal parts using traditional manufacturing methods, such as casting or forging, create costly delays to operations. Metal 3D printing, otherwise known as additive manufacturing (AM), can solve supply chain challenges and lead-time delays.
AM is rapidly establishing itself as a key technology in many industries, such as aerospace, defence, energy, and transportation because it offers operational efficiencies and expands product design capabilities. In the case of Lincoln Electric's AM services business, for example, we use what is probably the most common subcategory of AM: wire additive arc manufacturing (WAAM).
A relative newcomer to AM, WAAM is becoming increasingly relevant for manufacturing large-format parts. While many AM technologies are based on relatively novel processes, such as powder bed fusion, WAAM is based on arc welding; a well-established process manufacturers rely on every day even in safety-critical applications.
Large-scale WAAM platforms have produced parts up to 7 ft (2.1 m) high, and weighing more than 5000 lb (2265 kg). Engineers use software that rapidly converts existing CAD-file part designs to a robotic printing pathplan.
Parts are then produced in robotic cells and are managed by weld engineering application experts. These individuals walk a part through the entire process, from design to production to quality assurance, ensuring parts are delivered quickly.
As a proven production process, large-scale metal 3D printing using weld metal significantly reduces manufacturing lead times and shortens supply chains to reduce bottlenecks. The pipeline industry could greatly benefit from this technology.
To access the full version of this article and get a free trial subscription to World Pipelines, be sure to sign up here!
Read the article online at: https://www.worldpipelines.com/equipment-and-safety/17052022/large-scale-3d-printing/
You might also like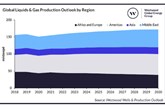 New report from Westwood finds liquids and gas production set to reach 173 million boe/d by 2030, with 9% growth on 2022 levels.