Eclipse Magnetics deliver innovative magnetic filtration technology for a gas receiving station application
Published by Sara Simper, Editorial Assistant
World Pipelines,
---
Eclipse Magnetics oil and gas division has designed and delivered a bespoke magnetic separator to an international operating company for use within a gas pipeline pig receiver in North Africa.
The inline separator is designed to remove ferrous contaminant, often referred to as black powder, from the natural gas transmission line before it reaches downstream equipment within the process plant.
The magnetic separator has the capability to capture ferrous particles down to sub-micron level, which will not only provide a cleaner product, but will greatly reduce the loading on downstream cartridge filters. This results in a significant increase in the life of the cartridges, meaning a much lower operating cost of consumables, and substantially longer intervals between change-outs, and the downtime involved.
Unlike cartridge filters, there are no consumables involved with magnets. They never lose their strength, and because they are encased in a stainless-steel tube, the captured ferrous material can be easily removed by simply wiping the tubes clean.
Global Sales Manager, Tony Joynston, said: "Our client required an efficient, cost effective, and expedient solution to their contamination issues. The Eclipse design team's fast and innovative approach to this challenge ensured we met all the criteria. We hope that other pipeline operators will take note of the cost saving and environmental benefits that can be gained from using our proven magnetic separator technology to remove ferrous contaminant from process piping systems."
Eclipse also supply their Ultrafiltrex range of "stand alone" magnetic separators, which have been specifically designed for black powder applications in the oil, gas, petrochemical, and Aviation industries. Suitable for use in upstream, midstream, and downstream locations, Ultrafiltrex ensures a cleaner, higher performance end product. By negating the need for expensive consumables, the technology also helps to reduce the environmental impact and costs for specialist disposal of contaminated filters. Greatly reduced operating costs ensures a rapid return on investment.
Read the article online at: https://www.worldpipelines.com/equipment-and-safety/17012022/eclipse-magnetics-deliver-innovative-magnetic-filtration-technology-for-a-gas-receiving-station-application/
You might also like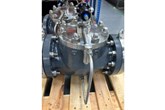 Oxford Flow expands its product range and grows market potential with new high- and low-pressure pilots.