---
For many pipeline operators, especially those contemplating new facilities, the landscape has changed with society and local communities becoming less tolerant of the development of new pipelines projects and infrastructure.
The media is rife with such reports, examples include the Southeast Market Pipelines Project, a natural gas pipeline project rejected by an appeals court, citing concerns about its impact on climate change; the Canadian Northern Gateway pipeline project which was rejected by Government in a bid to "balance environmental and economic promises," despite most indigenous communities in northern British Columbia who would be impacted by the pipeline supporting it; and multiple other project delays that would provide access to one of the largest natural gas shale plays in the United States, Marcellus. Despite being thwarted by reluctant regulators and vocal NGO opposition, these projects provide a sound business opportunity, abundant supply and growing demand for areas plagued by high energy costs and low supply. The fear of negative consequences that can adversely affect the environment, safety of people and impact human life are justified, requiring a solution to alleviate concerns and provide a level of transparency to pipeline operating conditions.
From a permitting standpoint, once a need for a new pipeline is established, the routing is most important. The impact on the local environment, culture, and community must be determined and weighed against the benefits of the project to the general good of the public. It has always been the position of industry that the design and engineering of the facility are done to all applicable codes, standards, and regulations, as well as routed to minimise impacts to environment and community. One would expect the rigour involved in this process to be sufficient and from a regulatory standpoint, it is. However, from the perspective of those living in the vicinity of the facility or those NGOs who advocate for the environment, satisfying applicable regulatory requirements is frequently not enough. The proposed pipeline crossing of an aquifer, through a community, near a school, historic site, across native lands, or a wild and scenic river soon becomes the rallying issue and the start of costly delay in permitting. The costs quickly escalate and the longer the debate rages, the more attention is brought to the issue. Those opposed know that they can force delay that may make the project economically unfeasible.
There is no panacea, but there are certainly opportunities to mitigate risk by addressing the fears of the public up front. What we know from experience is that most of these fears are rooted in the prospect and consequences of a potential of failure of the pipeline. This is where fibre optic monitoring creates a unique opportunity to serve all interested parties. A properly designed fibre monitoring system provides that additional layer of confidence to address the "what ifs" associated with a potential breach of the line. Such a system can alarm the operator of unauthorised digging, washouts, ground movement, progression of known structural issues, and even identify potential for leaks before they happen. With certain applications, it can measure stress directly to the pipeline such as may occur with ground movement, repetitive loading or overburden. From these measurements, and proper analytics, maintenance activities can be scheduled and chances of failure can be predicted; minimising operational and financial impact to the operator as well as avoiding entirely a hazard to the public.
The use of fibre optics for monitoring systems is not new. Particularly in regions where fibre optic lines are installed during initial construction for pipeline SCADA, technologies exist to use the line to monitor for third party damage, seismic activity and potentially even leaks. However, like any technology, there are limits to what it can achieve. Probably the most significant of these limitations relates to the placement of the fibre relative to the pipeline. The fibre only reacts to the environment specific to its location. In other words, fibre running along a pipeline, but at 18 in. away will only react to forces that are specific to that location or are large enough to affect that location. While in many instances that is enough, such as significant ground movement or digging activity, when we think about monitoring a pipeline holistically, a more robust approach should be considered.
Such a holistic approach would include a risk based assessment of the planned route using spatial analysis with GIS. Knowing where the potential risks occur near the planned route, such as mining or long term construction activities, active seismic or unstable geologic conditions, sink holes, river or tidal areas prone to erosion to name a few and how other sensitive areas might be affected by a pipeline failure would form the basis of the analysis. From there, determinations can be made about what type of solution would best address the risk factor. It may be that a fibre monitoring solution running along and in close proximity to the pipe in a certain area will address the specific hazard. In other areas, such as an area where the pipe might be subject to repetitive loading or slow movement of the ground around the pipeline, the direct application of fibre monitoring to the pipe itself is required. Such an application provides real time data on how the pipe itself is being affected by its surrounding environment and allows an operator to make adjustments in its operation to prevent a pipe failure.
Having fibre optic technology, either by direct application to the pipe itself or proximate to the pipe, provides additional data points about the pipeline and its integrity. It provides the regulators and public the peace of mind that the proposed pipeline will be setting a new standard in pipeline safety. As an operator proposes a new facility, monitoring capabilities such as fibre optics provide that extra layer of care, providing the confidence to the public that the pipeline is not a threat to their community or environment.
Lloyd's Register's repair and monitoring technology, SmartSleeve™, accurately monitors pipeline repairs, anomalies and operating conditions whilst reinforcing and strengthening weak or damaged pipeline sections, to ensure you mitigate risks and costs associated with the impact of pressure reduction and pipeline rupture.
For more information or to request a demo click here.
Author: Lloyd's Register
Read the article online at: https://www.worldpipelines.com/equipment-and-safety/15102018/active-pipeline-monitoring-a-case-for-fibre-optics-in-new-facility-permitting/
You might also like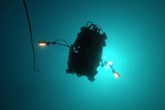 Voyis and Deep Trekker, have joined forces to achieve the successful fusion of Voyis' Discovery Camera with Deep Trekker's REVOLUTION ROV.