---
As oil and gas operators around the world continue to face increasing pressure to enhance their pipeline monitoring and security measures, Fotech has launched LivePIPE II – enhancing the world's most reliable real-time pipeline protection technology.
Crucially LivePIPE II's dual channel technology delivers a monitoring range up to 100 km from each individual module, with no multiplexing, just continuous monitoring, and no loss of detection accuracy or sensitivity at any point. As a world first capability, this significantly simplifies and lowers the cost of deploying a Distributed Fibre Optic (DFO) sensing solution on a pipeline. Detecting leaks and third-party intrusions over vast distances has just become a lot easier with LivePIPE II.
The next generation of LivePIPE also introduces Fotech's EDAM (Enhanced Data and Acoustic Management) technology, giving operators enhanced insight to their pipeline's integrity. EDAM allows operators to listen to activity at a specified location on the installed fibre in real-time – offering new assistance in identifying the exact nature of potential threats. EDAM can also identify and record segments of data that can be stored for up to three months, replayed, listened to, and used to analyse and enhance LivePIPE's event detection algorithms.
These new features make LivePIPE II the most advanced fully-automated fibre optic sensing solution in the world.
Chris Shannon, CEO, Fotech Solutions, said: "Fibre optic sensing technologies are increasingly vital to operators' security strategies and are no longer seen as just a 'nice to have'. Issues of pipeline theft, accidental damage, and the environmental damage both scenarios can cause, are not going away. LivePIPE II offers operators a major step forward in being able to prevent and mitigate the financial and environmental consequences of such integrity incidents.
"With LivePIPE II Fotech is demonstrating its technological leadership by pushing the boundaries of DFO solutions and this next generation product represents a significant breakthrough for pipeline operators."
Read the article online at: https://www.worldpipelines.com/equipment-and-safety/15092017/launch-of-livepipe-ii/
You might also like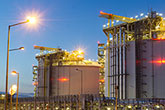 Prices pick up slightly but continue to remain deflated worldwide; prices did not respond as they did in 2022 despite disruption of gas pipeline supplies in Europe by multiple maintenance works.