---
With storage capacities of around 6 billion m3 of natural gas, RAG Austria AG is the largest gas and thus energy storage company in Austria. Delivered gas is temporarily stored in depleted natural gas reservoirs. Since natural gas absorbs moisture in the reservoir, it is dried and cleaned after extraction. This produces mine water, which is pumped back into the gas storage facility. Salts and hydrocarbons dissolved in the water must not be released into the environment under any circumstances. AGRU therefore supplied a new type of diffusion-tight piping system, the AGRU Sureline IV barrier pipe. The expert installation was carried out by RTi Austria GmbH, which specialises in the trenchless installation of pipelines.
Natural gas is continuously produced throughout the year in roughly equal quantities and delivered by pipeline over sometimes very long distances. However, gas consumption varies depending on the time of year and the time of day. In order to have natural gas available flexibly when it is needed and thus to compensate for fluctuations in consumption, it must be stored temporarily. The subsequent use of former, depleted deposits as natural gas storage facilities is the most efficient, environmentally friendly and safest way to store energy. RAG Austria AG therefore operates one of the largest pore storage facilities in Central Europe. The 7Fields natural gas storage facility with a storage volume of 1.7 billion m3 is made up of various former gas deposits in Upper Austria and Salzburg. The facility, which is unique in Europe, has five storage stations that are connected to both the national and international networks via natural gas pipelines and a total of three measuring stations. Originally, these former natural gas fields were formed more than 20 million years ago in the primordial sea of the foothills of the Alps by sandstone deposits. Over the course of millions of years, natural gas has penetrated the pore spaces of the sandstone and formed gas deposits there that can extend over an area of several square kilometres. Layers of clay several 100 m thick overlie the underground natural gas reservoirs and thus seal them off. After the natural gas has been extracted, these cavities are used again as underground natural gas reservoirs. They offer the highest degree of natural safety and solve the space problem of temporary storage. Thus, unlike electricity, gas can be stored safely and in large quantities.
Safe transport of environmentally hazardous media
During the extraction and drying of the temporarily stored gas, mine water is produced that originates from the primordial sea and is pumped back into the deposit. RAG Austria AG pays attention to the highest environmental compatibility in all work processes and was looking for a pipeline system that effectively prevents the diffusion of hydrocarbons from the mine water. A steel pipeline installed a few years ago corroded due to the high salt content and had to be replaced. Conventional PE piping systems are corrosion-free, but in this case they do not offer sufficient protection against permeation of hydrocarbons through the pipe wall. Therefore, the diffusion-tight AGRU Sureline IV barrier pipe from AGRU Kunststofftechnik GmbH was chosen for the new reservoir pipeline. The fully pressure-resistant plastic composite pipe was specially developed for the transport of contaminated wastewater or chemicals through ecologically sensitive areas. It can also be used to transport drinking water or ultra-pure water through contaminated soils. Its revolutionary three-layer structure made of high-quality, resistant plastics effectively prevents creeping contamination of the soil through permeation and ensures maintenance-free operation. The internal, stable media pipe made of point-load-resistant PE 100-RC is permanently corrosion-free and prevents incrustations due to smooth inner surfaces. On top of this is the diffusion-tight barrier layer made of high-performance plastic. It protects the environment from all media that are transported in the pipe and must not diffuse into the surroundings under any circumstances. These can be, for example, waste water containing oil and petrol, chemical substances, fluorocarbons and other gases. An external protective layer made of scratch-resistant PP also allows installation with alternative, trenchless installation techniques such as flush drilling, earth rocket or ploughing methods without deeper scrapes. The connection technology includes proven methods such as heated element butt welding or heated coil welding.
Double pipe for double safety
In order to continuously monitor the safer transport of the aggressive primordial sea water, the engineers at RAG Austria AG decided on a double-piping system with integrated leak detection. For this purpose, the media-carrying Sureline IV barrier pipe was drawn into a larger-dimensioned Sureline III pipe, which serves as a protective outer pipe for maximum safety. For a clean annular space, the outside of the Sureline IV barrier pipe was cleaned with hot steam during the pulling-in process. The remaining annular gap between the two pipes is intended to act as a pressure-resistant containment space to prevent media leakage in the event of a leak. Since a detection system is installed at the end of the pipe in the pump house to fully monitor the annular space, sensors immediately report any leakage. Both the media pipe and the protective pipe can withstand full pressure in this double pipe. With the exception of the missing barrier layer, the protective pipe is identical in construction to the media pipe. This means that even in the unlikely event of a leak, the strictest environmental protection regulations are reliably complied with.
The rehabilitation of the reservoir pipeline took four months. In each case 4800 m of Sureline IV barrier pipe in OD 140 mm SDR 17 and Sureline III pipes in OD 160 mm SDR 17 and corresponding fittings made of PE 100-RC were used. In order to remove the existing steel pipe, various technical solutions were considered. The most expensive solution would have been a new excavation. The most cost-effective alternative was a specially developed trenchless installation technique. The Sureline III pipe was installed trenchlessly using the flush drilling method. For this purpose, a start and target pit was excavated every 100 m. The pipe was connected to the 18 m long pipe strings by means of a trenchless connection. The 18 m long pipe strings were connected by butt welding and in the excavation pits with convenient electrofusion welding. Since the diffusion-tight Sureline IV barrier pipe had to be pulled into the Sureline III pipeline, the pipe strings could only be connected with butt welding. The finished double pipeline is designed for pressure peaks of up to 25 bar, with an operating pressure of 10 bar. The media temperature is up to 50 °C. The routing of the pipeline posed a challenge during installation. With the help of a flush borehole, two streams had to be crossed at a depth of 4.5 m in a 90 m radius.
Managing Director of RTi Austria Gmbh; Bmst. Ing. Michael Griebaum is very satisfied with the technical solution: "The Sureline IV barrier pipe from AGRU is the best technical solution for this challenge due to the highest quality material. Foreman Klaus Schlagintweit is pleased with the smooth course of the project. "We were very satisfied with AGRU's delivery, advice and welding demonstration."
Image: AGRU double containment pipe made of diffusion-tight Sureline IV barrier pipe (inside) and protective layer pipe Sureline III (outside).
Read the article online at: https://www.worldpipelines.com/equipment-and-safety/15072021/novel-plastic-composite-pipe-prevents-diffusion/
You might also like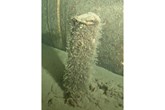 Denmark invites Gazprom to help salvage unidentified object found close to only remaining intact gas pipeline under Baltic Sea.