Transneft Diascan has put into operation a new type of inline inspection tool: an ultrasonic flaw detector with a measuring system using phased array (PA) sensors. It is designed to inspect pipelines with diameters of 1020/1067/1220 mm (40/42/48 in.) and allows for the early stage detection of crack-like flaws, thus increasing the safe operation of oil pipelines.
To read the full article
"Transneft Diascan commissions new ILI tool "
Please sign in or become a member for FREE
Sign in » Become a member »
Get started absolutely FREE in 2 minutes, plus receive a free printed magazine.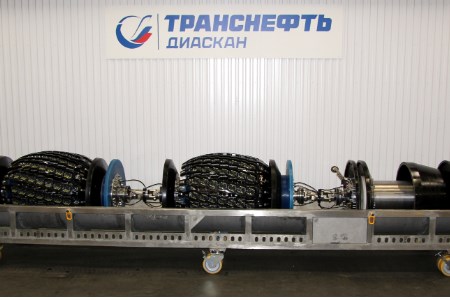 The tool's phased array measuring system enables the inspection of the pipe walls and welds through dynamically controlled multi-angle examination in the longitudinal and transverse directions. In addition to the phased array sensors, WM sensors are integrated in the measuring system to detect metal loss, scratches, and delamination. The circumferential resolution of the WM measuring system is 1.9 mm.
The inspection tool has been under development since January 2016 and has already passed acceptance tests at Transneft Diascan's testing site, as well as those conducted on an oil pipeline in operation.
Read the article online at: https://www.worldpipelines.com/equipment-and-safety/15012020/transneft-diascan-commissions-new-ili-tool/