---
In H1 2018, using proprietary inline inspection tools, Transneft Diascan inspected 17 626.3 km of Transneft trunk pipelines, including 14 428.1 km of oil trunk pipelines (OTPs) and 3198.2 km of petroleum products trunk pipelines (PPTPs). The figures meet the inspection plan for 2018.
Most of the works related to inline inspection of oil pipelines were performed in the OTPs operated by Transneft East (5414.7 km), Transneft Volga Region (2294.3 km) and Transneft Far East (2052.4 km). Most of the PPTP inspection was done at facilities of Transneft Baltic (1057.6 km) and Transneft Upper Volga (808.7 km).
Altogether, 296 inline inspection technical reports were prepared in the first half of 2018. The flaws detected are to be removed during scheduled repairs.
Transneft Diascan is Russia's largest provider of pipeline technical inspection services; the company inspects oil and petroleum products pipelines with a diameter of 6 in. to 48 in. using proprietary inline inspection tools (ILITs). The average annual scope of inline inspection work covers some 60 000 km of pipelines. The surveys are done using multichannel BGTs fitted with navigation modules, WM and CD ultrasonic defectoscopes, MFL and TFI magnetic defectoscopes, combined magnetic and combined magnetic ultrasonic detectoscopes, as well as defectoscopes used to reveal randomly oriented defects. By their performance parameters, some ILITs manufactured by Transneft Diascan are unique and unrivalled around the world.
Read the article online at: https://www.worldpipelines.com/equipment-and-safety/13072018/17-000-km-of-pipelines-inspected-in-the-first-half-of-2018/
You might also like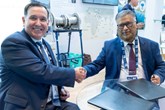 The partnership is to bring critical flange isolation offerings for the Kingdom of Saudi Arabia.