---
Euan Fowler, Principal Subsea Engineer, Xodus, explores an integrity management web-based software platform that effectively pulls together all operator information around pipeline inspection, maintenance and repair activities in one shared location.
To its members, the Pipeline User Group (PLUG) is vital to share the latest insight and innovation to improve pipeline integrity management. Ahead of annual gatherings, operators and suppliers would normally prepare and share written reports to collate and disseminate key learnings. For many, this was a laborious and inefficient process which had long felt out-dated and in need of digital re-invention.
XAMIN, the Xodus Asset Management and Integrity Network, utilised and co-developed by CNR International (UK) Ltd and EnQuest, has radically transformed and modernised these critical gatherings. It was designed with the end-user in mind and effectively pulls together all operator information around inspection, maintenance and repair (IMR) activities in one shared location (Figure 1).

Figure 1. XAMIN is a full-cycle integrity management web-based software platform.
"Utilising information technology to streamline integrity management practices is essential as more and more data is made available through new inspection techniques and the higher cadence of inspection of ageing assets," said Joe Worrall, Lead Pipeline Integrity Engineer at EnQuest.
As a smart and user-friendly software, it is a full-cycle integrity management web-based software platform. This provides companies with the toolkit required to manage all integrity operations effectively and efficiently - from condition reporting and inspection planning to historical data management. It streamlines the integrity management cycle, linking data and visualising history to give timely and reliable results.
"There was a clear opportunity identified to remove barriers to information sharing between EnQuest and CNR through Xodus. The PLUG module has allowed for real-time updates to be visible to both parties for a carefully controlled set of pipeline components pertinent to both operators. The transition to electronic PLUG reporting was seamless, as the data input fields closely resemble the industry-recognised PLUG forms used across the industry for years," added Worrall.
Smart, slick and streamlined communications
The XAMIN PLUG module promotes a collaborative culture of continuous improvement, both via regular information sharing and the live action tracker. As all parties have access to the latest information throughout the year, integrity issues are immediately visible which may then go on to benefit early intervention activity.
As an example, the Magnus and Heather export pipelines, as well as the Ninian Central Platform export pipeline to Sullom Voe, are three pipelines subject to a yearly and comprehensive PLUG exchange between CNR International (U.K.) Ltd and EnQuest.
When developing the XAMIN PLUG module, the operators had the following key aims:
Reduce the burden of gathering and sharing historical IMR information. This was already kept up to date on the operator's individual own XAMIN systems throughout the year.
Eliminate engineering time and associated risks by reproducing quality assurance documentation within the platform rather than in a manual document.
Improve the visibility of upcoming IMR activities for both operators by automatically relaying updates to live, risk-based Inspection (RBI) intervals stored within the digital system.
Importantly, allow all PLUG stakeholders access to the latest information at any time, and from any location, via the web.
A unified call to action
Historically, some actions raised at PLUG meetings would be discussed briefly and effectively forgotten about until the following year. Now, with more available time and information visibility, PLUG meetings are focussed on action resolution rather than data sharing.
Information is appropriately shared and partitioned so that each operator accesses only the data that is relevant to them, but without the need for separate system access or login information. Not only does this offer a seamless entry point for data input, but also reduces the risk of information being shared without control and thereby, with limited traceability.
Additionally, engineering time saved on data reproduction is utilised on other areas of pipeline integrity management. The overall result is reduced cost, but higher value work, and with a new standard for intercompany reporting. A 50% working hour reduction is the savings anticipated.
"The challenges faced by industry with remote working arrangements over the last 18 months have placed new burdens on information sharing and exchange arrangements," explains Jonathan Hoare, UK Pipeline Technical Authority at CNR. "The XAMIN PLUG module has certainly assisted us. It has reduced duplication of documents and has facilitated interface meetings between CNR and EnQuest, when we are jointly reviewing and discussing the relevant data in a timely manner."
Preventing data loss and leakage
Making the most of efficiency savings that digitalisation brings, XAMIN can share relevant updates and real-time information throughout the year. This includes operator and engineering team updates, which are automatically reproduced in the PLUG module, where it is visible, and editable, by all parties. As the live action tracker shares all relevant tasks to the PLUG exchange, the need for a complex and convoluted spreadsheet is gone.
While it is designed to replicate the familiar style of reporting, integrity summaries and source reports can all be linked to ensure all applicable information is uploaded and shared. PLUG-ready reports can be submitted with easy and once completed, is signed and archived within the platform for historical reference and, if required, to a printable report format. The module is then live again and the streamlined, straightforward process continues.
This example of a full cycle, web-based integrity management platform paves the way for improved efficiency, critical to pipeline integrity and a more collaborative, transparent way of working.
Read the article online at: https://www.worldpipelines.com/equipment-and-safety/12012022/pulling-the-plug-on-out-dated-pipeline-integrity-knowledge-sharing/
You might also like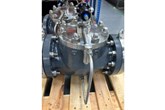 Oxford Flow expands its product range and grows market potential with new high- and low-pressure pilots.