---
Borets, a global leader in the engineering, manufacturing, sales and service of electric submersible pump (ESP) systems, has successfully installed its 250th permanent magnet motor (PMM) ESP system in the US.
PMMs are more efficient than traditional induction motors (IM). Used in conjunction with the dually compatible (PM and IM) Axiom II variable frequency drive, Borets PMMs can reduce ESP power consumption by up to 20%. Permanent magnet motors also experience lower heat rise than induction motors which benefits motor reliability and longevity. Higher rotor horsepower density means that Borets' PMMs are shorter in length than an IM of equivalent horsepower, supporting deeper pump setting depth capabilities.
"With more than 12 000 Permanent Magnet Motors already deployed globally, Borets continues to focus on bringing the advantages of PMM technology to our clients in the Permian Basin. Our 250th installation is a proud milestone achievement for this technology," said Wil Faubel, President of Borets US.
Borets Permanent Magnet Motors are available over a wide range of horsepower in 406, 456, 512 and 562 series. All Borets' PMMs are rated to 200 C and are constructed as single section motors which simplifies installation. Available also are high-speed PMMs (6000 rpm) which are an enabling technology to the new Borets WR2 - wide operating range and wear-resistant ESP system.
Realising maximum benefits from PMM technology also depends on the variable frequency drive (VFD). The Borets Axiom II VFD utilises a proprietary PM motor control algorithm to ensure the downhole motor and surface drive operate as a tuned system and deliver maximum ESP system efficiency and performance. PMM technology has been well proven in oilfields around the world. PMMs have endured maximum run lives of over seven years in Russia and more than four years in the Permian Basin.
Read the article online at: https://www.worldpipelines.com/equipment-and-safety/11042019/borets-meets-magnet-motor-milestone/
You might also like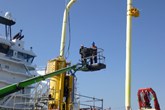 AIS awarded another custom coating project offshore Brazil.