---
Sixth generation (6G) underwater positioning technology from Sonardyne Brasil Ltda. has been chosen by vessel owner and operator Companhia Brasileira de Offshore (CBO) to meet Brazil's stringent new contracting specifications for subsea positioning.
The multi-functional Compatt 6 transponders and Ranger 2 USBL (Ultra-Short BaseLine) HPT transceivers that make up the order will be utilised alongside existing Sonardyne technology on-board the ROV support vessel CBO Isabella in support of a wide variety of subsea operations, including structure installation, pipeline metrology and ROV tracking.
TOn long-term contract to Petrobras since 2010, the CBO Isabella opted to have available two independent acoustic positioning systems so that operations can continue in the event of a single system failure. For the past few years, this requirement has been met through a combination of Sonardyne's Fusion LBL, Optimised Ranger 2 USBL and SPRINT INS technologies; providing the vessel with the flexibility to meet virtually any project requirement in any water depth, including Sparse LBL, full LBL and acoustically aided inertial navigation for the vessel's work-class ROV.
TReplacing the CBO Isabella's previous generation through-hull transceivers with fully digital HPT transceivers completes her upgrade to 6G, and means the vessel can exploit the full benefits of Sonardyne's 6G technology. This is proven to offer stable and precise positioning for DP, reliable structure and vehicle tracking in any water depth and support for simultaneous vessel operations using shared seabed transponder arrays already deployed in the field.
TThe work to equip the vessel's inventory of Compatt 6 LBL transponders with high specification DigiQuartz pressure sensors was carried out at Sonardyne's service, support and training centre in Macaé, Brazil.
Image courtesy of Sonardyne.
Read the article online at: https://www.worldpipelines.com/equipment-and-safety/07082018/sonardyne-technology-upgrades-vessels-to-meet-new-specifications/
You might also like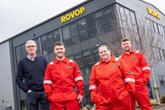 ROVOP focused on producing the 'next generation' of ROV pilots, adds three new trainees to its training programme.