---
Dominion has amended the route of the Atlantic Cast pipeline again, this time to avoid an endangered salamander dwelling in Augusta and Highland counties.
On Friday, Dominion released new details surrounding its proposed 564 mile Atlantic Coast Pipeline that would cut through a portion of Augusta County where the rare Cow Knob salamander dwells.
National forest officials said plans for the pipeline must be routed around the salamander's habitat, or under it, in order to preserve the species.
Dominion plans to drill beneath the salamanders.
Dominion Energy said the changes would reduce the potential impacts on salamander habitats in the Monongahela National Forest in West Virginia and the George Washington National Forest in Virginia. The latter would involve burrowing beneath Shenandoah Mountain.
Dominion also said it is proposing an alternative to avoid crossing the Great Dismal Swamp National Wildlife Refuge.
Dominion is partnering with Duke Energy and others to build the US$5.1 billion pipeline from West Virginia and through Virginia and North Carolina.
Edited from various sources by Elizabeth Corner
Sources: News Leader, FuelFix, Roanoke
Read the article online at: https://www.worldpipelines.com/equipment-and-safety/02112015/atlantic-coast-pipeline-to-divert-underneath-salamander-habitat/
You might also like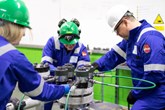 3t EnerMech named regional winner at top engineering awards for the second year in a row.