---
SRJ Technologies, which is on track for an Australian Securities Exchange listing in 2020, has successfully completed testing to verify its weld-free pipe couplings can be utilised not only for the onshore and offshore projects, but also for some of the world's deepest subsea applications.
SRJ Head of Project Management Julija Krutalevica said the tests proved the robustness of the technology to safely perform at depths of approximately 2000 m. "The couplings were exposed to simultaneous hydrostatic pressure of 375 bar and hyperbaric pressure of 200 bar, which equates to conditions at about 2000 m depth," Ms Krutalevica said.
"In comparison, the world's deepest FPSO production unit sits 2900 m above the seabed, however most global offshore platforms operate at depths far less than 2000 m. The testing achieved a required peak pressure hold-time with no leakage observed while the coupling was subject to a wide range of internal and external pressures."
The couplings have also been fitted with sensor technology to allow continuous, real-time monitoring of subsea infrastructure.
"Throughout the entire test duration, SRJ's Smart Subsea Coupling was transmitting real-time internal system pressure and temperature data, which are paramount attributes to piping integrity," Ms Krutalevica said.
"With the added benefit of the digitally enabled technology, operators can remotely monitor the trend in piping conditions and make informed decisions on infrastructure status.
"We are also working to enhance the monitoring technology on our Smart Coupling to include corrosion, erosion and vibration transmitters, providing a complete system integrity monitoring solution for our clients."
SRJ Technologies is about to commence its main IPO fundraising round ahead of plans to list on the ASX in the first half of 2020.
As part of the deployment into the Australian market, the company recently made a number of high-profile appointments, as well as secured manufacturing and distribution agreements with local providers.
CEO Alexander Wood said it was an exciting time for the company to be entering the Australian market. "There is a significant number of assets moving into the maintenance phase, as well as various ageing plants, and operators are looking for ways to prolong operational life," Mr Wood said.
"Our technology provides a safer, faster, more cost-effective way to implement containment and improvement measures and with the addition of monitoring technology, as well as the enhancement of our products to function at depth, we are now able to address land-based, topside and subsea requirements.
"We see significant opportunities in the Australian market and globally for 2020, and are advancing a range of new supply deals.
"At the same time, having secured a government grant through Innovate UK, we continue investing in the R&D activities focused on further digitalisation of our product suite."
Read the article online at: https://www.worldpipelines.com/equipment-and-safety/02012020/pipe-integrity-technology-verified-for-subsea-use/
You might also like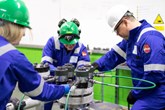 3t EnerMech named regional winner at top engineering awards for the second year in a row.