Halfwave announces contract with National Grid for unpiggable inspections
Published by Aimee Knight, Editorial Assistant
World Pipelines,
---
Halfwave, the in-line oil and gas pipeline inspection technology company, has announced a new contract with National Grid in the UK. Halfwave will provide their bespoke Acoustic Resonance Technology (ART) to the previously successful Gas Robotic Agile Inspection Device (GRAID) platform. The company will supply the ART solution, which will be attached to National Grid's ground-breaking, self-propelling robot technology, developed for inspection of unpiggable gas pipelines with complex geometries.
This project will address a significant challenge to the UK's infrastructure, with around 350 km of high-pressure pipelines that cannot be inspected using traditional methods. Once the project is complete accurate data can be collected in these complex areas.
The GRAID technology will enable National Grid to inspect unpiggable pipelines while in-service, offering increased efficiency with no requirement for pipeline shutdown.
Josh Blake, GRAID Project Lead, National Grid, said: "Having looked at many technology options, nothing else on the market gives the quality of data that Halfwave's technology does. With the addition of these bespoke sensors, project GRAID has the potential to change the face of infrastructure management across the country's National Transmission System (NTS), a system which provides gas that more than 80% of UK households depend on.
"The beauty of the robot inspection technology is it offers high-quality results that allow for accurate, proactive management of pipeline maintenance which is of huge benefit to us and our customers."
ART is an acoustic inspection technology developed in the last 20 years. ART exploits half-wave resonance, whereby a target, such as a pipeline wall, responds to certain frequencies characteristic of its thickness.
The addition of the ART solution will allow the robot to move through station pipework at pressures up to 94 Bar(g) and flow conditions up to 5 m/s, removing the requirement for pipework outages. This will speed up the inspection process by up to five times, with a 1 m section of 36 in. diameter pipe taking less than an hour to survey.
Paul Cooper, CEO, Halfwave commented on the news: "We are delighted to be working with National Grid on this hugely significant project. We have successfully developed ART sensors which are non-magnetic, non-contact and which also have sub-millimetre accuracy benefits that will allow for much faster inspection of these pipelines than was previously possible.
"The ART specialised solution is designed to provide enhanced quantity and quality of data, allowing greater understanding of the pipework integrity, changing the focus from a reactive to proactive integrity and maintenance management of the pipeline infrastructure."
Engineering activities will start during 3Q19 with a live trial planned for 2Q20/3Q20, once complete a full inspection plan could start from 2021.
Read the article online at: https://www.worldpipelines.com/contracts-and-tenders/28082019/halfwave-joins-forces-with-national-grid-for-unpiggable-inspections/
You might also like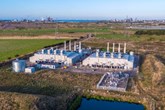 This is the first customer that has been announced for Kellas Midstream's H2NorthEast Teesside hydrogen project.