---
ADNOC LNG, a subsidiary of the Abu Dhabi National Oil Company (ADNOC), has signed the engineering, procurement and construction (EPC) contract for the second phase of the Integrated Gas Development Expansion (IGD-E) project with a consortium of Spain's Tecnicas Reunidas and Abu Dhabi's Target Engineering Construction Company (TECC).
The contract is valued at AED3.16 billion (US$860 million) of which around half will flow into the local economy.
The agreement, between ADNOC LNG and the Technicas Reunida and TECC joint venture, was signed by Fatema Mohamed Al Nuaimi, Acting CEO of ADNOC LNG; Arthur Crossley Sanz, General Manager of Tecnicas Reunidas; and Chaouci Yassine, CEO of TECC.
The second phase of the IGD-E project will take 54 months to complete. It will add 245 million ft3/d of associated gas to the 1.4 billion ft3/d of offshore gas sent from Das Island to ADNOC Gas Processing's Habshan gas facilities to be processed for use in power generation.
The full scope of the contract encompasses engineering, equipment and material supply, construction, installation, testing and commissioning of compression, drying and gas treatment units, as well as power generation and other auxiliary services. It includes the construction and commissioning of new gas facilities on Das Island, including construction of a new booster compression train with a capacity of 60 million ft3/d, as well as two feed gas compression and dehydration trains, each having a capacity of 123 million ft3/d and two amine-based fuel gas treatment units with 80 million ft3/d capacity each.
Tecnicas Reunidas will lead the consortium and carry out the engineering and procurement for the project, while TECC will lead the construction and commissioning works on Das Island.
Work on ADNOC's AED40 billion (US$11 billion) Integrated Gas Development programme began in 2009, to enable the transfer of 1 billion ft3/d of high-pressure gas from the offshore Umm Shaif field, via Das Island, to ADNOC Gas Processing's onshore facilities at Habshan and Ruwais. The programme was completed in 2013.
Subsequently, phase 1 of the IGD-E project was launched in 2015 and was completed in August 2018, boosting ADNOC's offshore gas processing capacity by 400 million ft3/d to 1.4 billion ft3/d. Phase 1 included the construction of a fourth gas dehydration unit and dry gas compression aftercooler on Das Island; gas pipelines, with a 117 km offshore segment and 114 km onshore segment; condensate pipelines; and modifications to the Habshan gas processing complex.
Read the article online at: https://www.worldpipelines.com/contracts-and-tenders/27092018/adnoc-awards-epc-contract-for-integrated-gas-development-expansion-project/
You might also like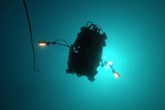 Voyis and Deep Trekker, have joined forces to achieve the successful fusion of Voyis' Discovery Camera with Deep Trekker's REVOLUTION ROV.