---
The ESAB Group Inc. and leading robot and robot system company YASKAWA have announced the signing of a global cooperation agreement to jointly develop and market a line of pre-engineered robotic welding systems called XCellerator.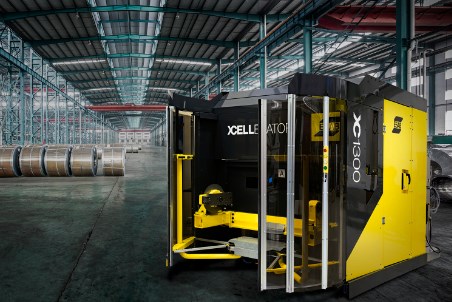 The XCellerator systems will be engineered and built by Yaskawa and marketed by ESAB through its global sales channels.
Each company will contribute their special expertise to create a product which is greater than the sum of their individual contributions. In creating the XCellerator line of pre-engineered robotic welding cells, Yaskawa brings more than 30 years of experience producing leading-edge robots, robotic controllers and robot cells to this effort. For its part, ESAB brings its deep expertise in welding processes, filler metals, equipment and automation together with their proprietary WeldCloud weld operations management infrastructure. Together they have produced an integrated robotic welding solution that truly exemplifies these two great companies.
Pre-engineered cells like XCellerator are the fastest, simplest path toward automation. They improve productivity per worker by three to five times and offer a compelling return on investment. Factory-built and tested, they take the risk out of robotic system investments. The cells especially appeal to small and medium-sized manufacturers and fabricators that value easy installation, set-up and operation, enabling them to take a confident step toward automating their welding operations.
Read the article online at: https://www.worldpipelines.com/contracts-and-tenders/21122020/esab-and-yaskawa-sign-deal-for-pre-engineered-robotic-welding-cells/
You might also like
Norwegian offshore services provider, DOF, secures US$260 million service contracts from Brazil's Petrobras.