---
The technology group Wärtsilä and Flender (Siemens AG, Mechanical Drives) have reached an agreement regarding the contract manufacturing of Wärtsilä's marine gear box portfolio.
With immediate effect, the assembly and testing of the gear boxes will be moved to the Siemens Mechanical Drives facilities in Voerde, Germany.
By taking advantage of synergies with processes developed at the Siemens plant, the new arrangement will secure the quality and delivery punctuality of the Wärtsilä gear boxes, and will thus provide greater customer value. The design and technical specifications, as well as the delivery arrangements, project management, and interfacing with shipyards and owners will continue to be Wärtsilä's responsibility.
"We believe that we have found the best possible partner for ensuring that our gear box offering is of the expected quality, and for being able to serve our customers in an efficient, reliable, and on-time way. We wish to emphasise that it is only the production arrangements that are being revised; all the terms and conditions of our contracts with customers remain unchanged," says Arto Lehtinen, Vice President, Propulsion, Wärtsilä Marine Solutions.
"We are pleased to be cooperating with Wärtsilä in the production of their marine gear boxes. The products are excellent and they fit well with our manufacturing programme at this facility," says Felix Henseler, Executive Vice President, Applications, Siemens Mechanical Drives.
The gear box is a vital link between a ship's main propulsion engine and the controllable pitch propeller. Several configurations and sizes are offered according to the actual vessel requirements. Wärtsilä's gear boxes come in both single and two-speed variants, the latter being of particular benefit to enhance the performance of certain types of vessels.
Read the article online at: https://www.worldpipelines.com/contracts-and-tenders/21092017/wrtsil-agrees-with-siemens-on-gear-box-portfolio/
You might also like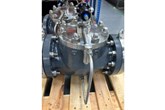 Oxford Flow expands its product range and grows market potential with new high- and low-pressure pilots.