Pinnacle Midstream II announces new natural gas gathering and compression system
Published by Aimee Knight, Editorial Assistant
World Pipelines,
---
Pinnacle Midstream II, LLC (Pinnacle) has announced that the company has entered into a 15-year gas gathering, processing and purchase agreement with DoublePoint Energy, LLC (DoublePoint), pursuant to which DoublePoint agreed to dedicate certain of its leasehold acreage related to natural gas production to Pinnacle. The agreement anchors Pinnacle's greenfield build of a new natural gas gathering and compression system in the Midland Basin.
The Pinnacle Dos Picos Gathering System is expected to come into service in 2Q21 and supports the extensive multiwell pad development taking place in the Midland Basin, one of the most prolific production areas in North America.
Initially the Pinnacle Dos Picos Gathering System will service Midland, Martin and Glasscock counties. Future expansions are planned as producer activity continues to increase. The Pinnacle Dos Picos Gathering System will give producers access to the industry's newest gathering and compression engineering technologies that are designed to accommodate the high volumes associated with multiwell pad development and centralised drilling campaigns.
"We are extremely excited to have the opportunity to team up with DoublePoint, one of the region's premier and most active producers," said Pinnacle Midstream II CEO J. Greg Sargent. "DoublePoint has some of the best and proven acreage in the basin. We believe the Pinnacle Dos Picos System's strategic location will be a game changer for DoublePoint and many other producers operating in the Midland Basin."
The Pinnacle Dos Picos Gathering System was designed with expansion in mind. The system is engineered for top-of-class runtime that will handle the increasing volumes of hydrocarbons the region's extensive existing and undeveloped formations are expected to generate.
Pinnacle has ready access to the capital required to align the gathering and compression infrastructure in the basin with the demands of producers that are continuously developing multiple benches. Pinnacle is engaged in discussions with other producers regarding additional dedications and services.
Pinnacle Midstream II, LLC is backed by growth capital from management and Energy Spectrum Capital. "We are very excited about Pinnacle's Dos Picos System," said Energy Spectrum Partner Mike Mayon. "The Pinnacle team's proven ability to plan and execute on midstream infrastructure projects that anticipate their customers' critical needs is second to none in the industry. We are very happy to be a proud partner in Pinnacle's ongoing successes."
Pinnacle Dos Picos System Details
The initial system will consist of more than 50 miles of primarily 16 in. low- and high-pressure gas gathering mainlines, compression facilities and access to multiple in-basin gas processing options providing producer optionality to deliver product to multiple markets. The system will allow for rapid expansion with the addition of further gathering and compression facilities as necessary.
Read the article online at: https://www.worldpipelines.com/contracts-and-tenders/16122020/pinnacle-midstream-ii-announces-new-natural-gas-gathering-and-compression-system/
You might also like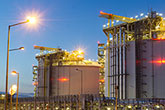 Prices pick up slightly but continue to remain deflated worldwide; prices did not respond as they did in 2022 despite disruption of gas pipeline supplies in Europe by multiple maintenance works.