---
GAIL (India) Limited has placed pipelaying orders of Rs 780 crores for approximately 530 km for pipeline connectivity from Bokaro (in Jharkhand) to Angul (in Odisha) as part of the Jagdishpur-Haldia & Bokaro-Dhamra natural gas pipeline (JHBDPL) project. With these awards, major contracts of the project, i.e. pipe supply and laying contract orders for 2200 km have been finalised.
The prestigious 2655 km long JHBDPL project, also known as the 'Pradhan Mantri Urja Ganga' project, was inaugurated by Honourable Prime Minister of India in July 2015. The project is progressing in full swing and the first phase of the project will be completed before the scheduled target date of December 2018. GAIL has, to date, committed over Rs 7400 crores for the project which will pass through the state of Uttar Pradesh, Bihar, Jharkhand, West Bengal and Odisha.
The project will usher industrial development in eastern part of India by supplying environmentally clean natural gas to fertilizer plants, power plants, refineries, steel plants and other industries. Further, the arrival of the Pradhan Mantri Urja Ganga will provide direct and indirect employment to thousands of people.
The project will also provide clean energy to households and transportation in the cities along the pipeline route. The city gas network laying activity in Varanasi, Bhubaneswar and Cuttack has already commenced. Project activities will start next month in other cities, namely Patna, Ranchi and Jamshedpur.
Shri B. C. Tripathi, Chairman and Managing Director, GAIL, said that "the project activities in the prestigious Pradhan Mantri Urja Ganga project is progressing as per schedule. Major contracts for the project have been awarded. The schedule completion date for Phase I of the project from Phulpur in Uttar Pradesh to Dobhi, Patna and Baruani in Bihar is December 2018 and we are confident of completing it ahead of schedule. City gas project activities are also progressing well. The project will create a boon for clean industrial development in the eastern part of the country."
Tripathi further added that "GAIL has achieved its annual targeted total capital outlay and has expended around Rs 4000 crores during the fiscal year ending March 2018. GAIL will be spending its targeted capital outlay of Rs 6400 crores in the current fiscal year largely for the 4000 km of pipeline and city gas projects it is presently executing."
Read the article online at: https://www.worldpipelines.com/contracts-and-tenders/16042018/gail-finalises-major-pipelaying-contracts-for-natural-gas-pipeline/
You might also like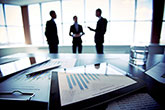 Equitrans Midstream Corp. considering a sale according to news reports.