---
Magellan Midstream Partners, L.P. (Magellan) and Valero Energy Corporation (Valero) announced the expansion and joint development of the marine storage facility currently under construction along the Houston Ship Channel in Pasadena, Texas (USA). The Pasadena facility, which will handle petroleum products, including multiple grades of gasoline, diesel and jet fuel, and renewable fuels, will be owned by a limited liability company that is owned 50/50 by Magellan and Valero and will initially include 5 million bbls of storage, truck loading facilities and two proprietary ship docks.
As previously announced in July 2016, phase 1 of this facility is already under construction, which includes approximately 1 million bbls of storage and a new marine dock capable of handling Panamax-sized ships or barges with up to a 40 ft draft. This first phase will now be owned by the jointly-owned company.
Further, this facility will be expanded by an incremental 4 million bbls of storage, a three-bay truck rack and a second marine dock capable of handling Aframax-sized vessels with up to a 45 ft draft (phase 2). After completion of this expansion, the Pasadena facility will be connected via pipeline to Valero's refineries in Houston and Texas City, and the Colonial and Explorer pipelines in addition to the already planned connection to Magellan's Galena Park terminal facility.
Combined, phases 1 and 2 of the Pasadena marine terminal are currently estimated to cost approximately US$820 million, which will be funded equally by capital contributions from Magellan and Valero. With the new arrangement, Magellan's incremental capital spending will be approximately US$75 million more than its previous spending estimates of US$335 million for phase 1 alone. Both phases are fully contracted with long-term customer commitments.
Magellan currently serves as construction manager and will serve as operator once construction is complete. Phase 1 of the new terminal is expected to be operational in early 2019, with phase 2 expected to come online in early 2020, subject to receipt of necessary permits and regulatory approvals.
"Magellan is pleased to join forces with Valero to combine our extensive pipeline and terminals capabilities with their world-renowned refining and marketing expertise to further expand the state-of-the-art marine facility being constructed in Pasadena," said Michael Mears, Magellan's Chairman, President and CEO. "Demand for refined products from the Gulf Coast continues to grow, and together, we are well-positioned to continue expanding our marine capabilities to meet this demand from both domestic and international markets."
"Valero is excited about this opportunity to work with an exceptional organization like Magellan to jointly develop this flexible and well-positioned terminal," said Joe Gorder, Valero's chairman, president and chief executive officer. "This project provides another example of our commitment to growing our portfolio of logistics capabilities to support our long-term strategy of expanding and extending our supply chain."
If warranted by additional demand, the new Pasadena facility could be expanded to include an incremental 5 million bbls of storage, another three docks and expanded truck loading capacity, for a maximum footprint of up to 10 million bbls of total storage and up to five docks. All future expansions are expected to be owned by the jointly-owned company.
Read the article online at: https://www.worldpipelines.com/contracts-and-tenders/15092017/magellan-and-valero-announce-jv/
You might also like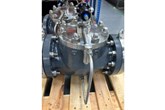 Oxford Flow expands its product range and grows market potential with new high- and low-pressure pilots.