---
A leading industrial technology specialist solidifies its position as a market leader for its unique nucleonic instrumentation – designed to measure and control fluid distribution – following a series of contract wins with major oil and gas operators on projects located in South America and the Middle East.
Tracerco, part of the Johnson Matthey Plc, has seen an increase in demand for its ProfilerTM technology which is designed to provide operators with a view into a vessel, allowing them to precisely measure and manage vertical distribution of gas, foam, oil, emulsion, water and sand with great accuracy.
The system is the world's only nucleonic instrument of its type and works very effectively even in some of the harshest of environments, from subsea and upstream oil and gas processing to downstream desalting and refining.
Speaking about the system and its uptake across South America and the Middle East, Jon Tate, Managing Director at Tracerco said: "We are delighted to have been awarded these multi-million pound contracts, which further demonstrates the Profiler's adaptability to work in a variety of situations and across a wide geographic range.
"As South America and the Middle East are some of the world's major oil and gas producing regions, rich in oil resources, there is a real demand for more advanced technologies that enable operators to avoid unscheduled shutdowns, save money on chemical additives, whilst also boosting throughput and complying with environmental regulations – without compromising on safety. And our Profiler technology allows them to do exactly that.
"We firmly believe securing these projects solidifies our position as the industry's top technology specialist for unique separation and level management measurement solutions."
The systems have been utilised in hundreds of operations all over the world and provides a separation solution for millions of bpd.
Read the article online at: https://www.worldpipelines.com/contracts-and-tenders/15032022/tracerco-secures-major-contracts-in-south-america-and-middle-east/
You might also like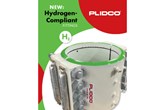 In response to the emerging transition toward hydrogen, PLIDCO has introduced a new range of products for use with hydrogen pipelines.