---
PPE – based in Teesside (UK) – has been contracted to design and create pig launchers and receivers to be used on a sea-tank terminal near Antwerp in Belgium. Due to the location, the company needed to take into consideration the stringent Belgian gas regulations required when creating the products.
With a growing reputation in the international market, PPE has been chosen to supply its specialised pipeline products to a division of Circor Energy known as Pipeline Engineering.
The company will be adhering to specialist client requirements, such as designing the pig launchers and receivers in 16 x 20 in. and 12 x 16 in. measurements as well as staying in line with strict criteria set out by the Belgian government. PPE already possess vast experience in creating tailor made products to both client and various international industry standards.
Speaking about the awarded contract, Simon Hannar, Managing Director at PPE said: "We are thrilled to have secured this contract working with a division of one of the world's biggest energy companies, Circor Energy. We always ensure our products match specifications and embrace the challenge of meeting new regulations set out by either the client or the country we are operating in. We take pride in meeting and exceeding any new or updated criteria that comes our way and with years of expertise built up in the industry, this contract win demonstrates that we are the right company to create the quality products needed to meet Belgium's highly regulated standards."
One of the main objectives of the sea-tank terminal project is to safely transport gas making sure the product flows as efficiently as possible. PPE's pig launchers and receivers will be used to ensure the product achieves this thereby lowering cost and increasing the speed and quality of the gas. Already underway, the project is expected to take over five months from design approval.
Designed and manufactured at PPE's impressive facilities in Skelton, covering 56 000 ft2 in total, PPE monitor every aspect of the process to ensure products meet and exceed client requirements and are expertly crafted to guarantee they are consistently of the highest quality.
Simon Hannar said: "We pride ourselves on our continuous training programme that is firmly set in place which ensures that we deliver to the highest standards and in the safest way possible. As such, this has led to PPE having such a strong reputation for high quality in the industry which we believe is a key factor that helps us to win large contracts such as this."
Established in 2008, Pipeline Precision Engineering Limited is a UK based company providing a full turnkey service from concept and manufacture right through to testing and deployment to site. Over 80% of products are sent across the world to international clientele.
Read the article online at: https://www.worldpipelines.com/contracts-and-tenders/13112018/ppe-awarded-pig-launcher-contract-from-circor-energy/
You might also like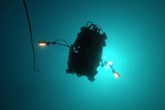 Voyis and Deep Trekker, have joined forces to achieve the successful fusion of Voyis' Discovery Camera with Deep Trekker's REVOLUTION ROV.