---
Australian Gas Infrastructure Group (AGIG) – a national provider and operator of key energy infrastructure – has been awarded a significant new Western Australian project by Woodside for the pipeline component of its Pluto-North West Shelf (NWS) Interconnector.
A new 30 in. diameter pipeline will run 3.2 km, connecting the Woodside-operated Pluto LNG Plant to the NWS Project's Karratha Gas Plant (KGP), and is the first component of the infrastructure needed to transport gas between the two facilities.
Under the contract entered into with Woodside, AGIG will design, construct and operate the new pipeline in addition to three facilities including:
A new inlet point and pig launcher adjacent to the Pluto domestic gas export compressor.
A new meter station located near the KGP.
A new pig receiver and outlet within the KGP.
AGIG's Chief Executive Officer, Mr Ben Wilson, welcomed the Woodside contract as further cementing AGIG's role as an owner and operator of critical infrastructure in Western Australia.
"AGIG already delivers for Western Australia through the Dampier Bunbury Natural Gas Pipeline (DBNGP) and our partnerships with many of the state's major resource companies," Mr Wilson said.
"We are proud to be partnering with Woodside on this important project to support the further development of gas infrastructure on the North West Shelf," he said.
Mr Jon Cleary, AGIG's General Manager Commercial, said design, engineering and approvals for the pipeline are at an advanced stage, handled by AGIG's in-house subject matter experts following granting of the Pipeline license, PL-122, on 23 October 2019.
"Subject to the granting of environmental and regulatory approvals, construction is planned to begin in 2020, with procurement and engineering already underway," he said.
"We look forward to AGIG's continuing involvement in delivering such vital projects and the benefits that flow from such developments, including local jobs and ongoing employment opportunities."
Noting the cultural significance of the Burrup Peninsula, extensive cultural heritage surveys were undertaken across the pipeline route to ensure that sensitive areas are protected and avoided during construction and operation of the pipeline. The pipeline route is over land disturbed in the initial construction of the DBNGP in 1983-84. Regulatory approvals have been significantly progressed including the pipeline license and application for environmental approval. The granting of land access is anticipated before the end of 2019.
Construction and operation of the pipeline is subject to finalisation of regulatory and relevant joint venture approvals.
Read the article online at: https://www.worldpipelines.com/contracts-and-tenders/11112019/agig-awarded-pipeline-project-by-woodside/
You might also like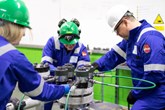 3t EnerMech named regional winner at top engineering awards for the second year in a row.