---
The Nigerian National Petroleum Corporation (NNPC) said arrangements were being concluded for the historic groundbreaking of the 40 in. x 614 km Ajaokuta-Kaduna-Kano (AKK) gas pipeline and stations in the coming weeks.
The corporation said that, following last week's successful execution of contract agreements for the engineering, procurement, construction, commissioning and financing for Lots 1 and 3 of the US$2.8billion trans-Nigeria gas pipeline project, measures had been activated for start of what has been described as the single biggest gas pipeline project in the history of oil and gas operation in Nigeria.
Upon completion, 2 years from now, the AKK gas pipeline would enable connectivity between the east, west and north – which is currently non-existent. It would also enable gas supply and utilisation to key commercial centres in the northern corridor of Nigeria, with the attendant positive spin-off on power generation and industrial growth.
Providing details of the contract awarded to a consortium of indigenous and Chinese entities under a 100% contractor financing model, the NNPC said Lot 1 (total length of 40 in. x 200 km) stretching from Ajaokuta to Abuja Terminal Gas Station (TGS), was awarded to the OilServe/Oando Consortium and had a contract value of approximately US$855million.
Lot 2, whose contract agreement is yet to be executed, covers 40 in. x 193 km, and stretches from Abuja to Kaduna with a contract value of approximately US$835 million.
The NNPC said that Lot 3, which runs from Kaduna TGS to Kano TGS (total length of 40 in. x 221 km), was awarded to the Brentex/China Petroleum Pipeline Bureau (CPP) Consortium under a contract value of approximately US$1.2 billion.
The above brought the total value of the entire project to over US$2.8billion as approved by the Federal Executive Council at its 46th meeting on 13 December 2017.
For so long, the NNPC had activated an aggressive gas reform and implementation drive, requiring accelerated implementation of gas pipeline infrastructure development with specific focus on critical pipeline infrastructure to power plants and industries.
Between 2010 and today, almost 500 km of pipelines have been completed, commissioned and are now delivering gas. Some of the completed pipelines include the Oben-Geregu (196 km), Escravos-Warri-Oben (110 km), Emuren-Itoki (50 km), Itoki-Olorunshogo (31 km), Imo River-Alaoji (24 km) and Ukanafun-Calabar pipeline (128 km).
In addition, there is ongoing construction of the strategic east-west OB3 pipeline (127 km), scheduled for completion by 3Q18 and the expansion of the Escravos-Lagos Gas Pipeline System scheduled for completion later in 2018.
Read the article online at: https://www.worldpipelines.com/contracts-and-tenders/09042018/nigeria-awards-contract-for-akk-gas-pipeline/
You might also like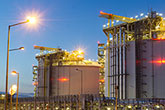 Prices pick up slightly but continue to remain deflated worldwide; prices did not respond as they did in 2022 despite disruption of gas pipeline supplies in Europe by multiple maintenance works.