---
One of the UK's leading engineering and manufacturing companies has been awarded a prestigious international contract by Jordanian Egyptian natural gas transportation company, FAJR.
Pipeline Precision Engineering (PPE) – based in Skelton, Teesside (UK) – has received a contract to supply its bespoke pipeline transportation products including pig traps, pig handling trolleys and jib cranes to be used on Enppi's Jordan-based 56 km North Gas Pipeline Project.
The project is designed to transport natural gas through the pipeline from North Jordan in order to increase the availability of natural gas. This project is part of Egyptian authority the Ministry of Petroleum's strategy to phase out butane consumption across the country by making natural gas more accessible. The project has received significant support from the government in line with the Ministry's aims to eliminate dependence on this gas fuel source. With the use of PPE's bespoke transportation products, FAJR is confident that this project will see natural gas supplied to Jordanian power stations from as early as 2020.
Speaking about the contract win, Simon Hannar, Managing Director at PPE said: "We are delighted to have secured this very significant contract to supply our expertly manufactured pipeline products to this strategically important Middle Eastern energy project. Receiving an international contract from FAJR on such a heavily backed project is a true testament to the quality of our specialist services and bespoke products.
"For this project – as with all our schemes – we specifically designed and fabricated to provide the best solutions that could soon dramatically change power consumption across the whole of Jordan."
To assist with the requirement of quick material procurement and the transportation of each item required for the project, funding was helped with backing from the government.
Having already worked across multiple international projects, designing and manufacturing products for companies such as Genesis Oil and Gas and T.D. Williamson, PPE has developed a reputation as a leading worldwide supplier of tailor-made fuel transportation products.
Currently well underway, the project is expected to run for a total of 168 days and is due for completion in March 2019. The large scale project led to job creation opportunities including appointing two new apprentices in administration and welding. The contract was secured thanks to PPE's international presence with agents across Europe, the Middle East and further afield.
Simon Hannar added: "At PPE we pride ourselves on our engineering services and products which have been developed over years of working within the industry. We are thrilled to add Enppi's North Gas Pipeline Project to our growing list of accolades, further establishing our place within this industry."
Read the article online at: https://www.worldpipelines.com/contracts-and-tenders/05112018/ppe-wins-jordan-based-contract-for-pipeline-products/
You might also like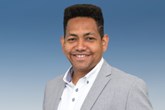 ICR Group's inspection technology has achieved accreditation from two globally-recognised bodies.