---
"We continue to make steady progress against our strategy and plans, delivering another quarter of strong operational and financial performance. We brought two more major projects online, high-graded our portfolio through acquisitions such as BHP's US onshore assets and invested in a low-carbon future with the creation of BP Chargemaster. Given this momentum and the strength of our financial frame, we are increasing our dividend for the first time in almost four years. This reflects not just our commitment to growing distributions to shareholders but our confidence in the future." Bob Dudley – Group Chief Executive.
Underlying replacement cost profit for 2Q18 was US$2.8 billion – four times that reported for the same period in 2017 – including significantly higher earnings from the Upstream and Rosneft.
Operating cash flow excluding Gulf of Mexico oil spill payments was US$7.0 billion in 2Q – which included a US$1.3 billion working capital release (after adjusting for inventory holding gains) – and US$12.4 billion in the first half, including a US$0.4 billion working capital build.
Dividend was increased 2.5% to US$0.1025 cents a share, the first rise since 3Q14.
Upstream reported the strongest quarter since 3Q14 on both a replacement cost and underlying basis.
Oil and gas production: reported production in the quarter was 3.6 million boe/d. Upstream production, excluding Rosneft, was 1.4% higher than a year earlier and up 9.6% when adjusted for portfolio changes and pricing effects, driven by rising output from new major projects and strong plant reliability.
Major projects: with start-ups in Azerbaijan, Russia and Egypt, three of the six new projects expected to start in 2018 are now online.
Strategic portfolio management: agreed to buy world-class US onshore oil and gas assets from BHP, a US$10.5 billion acquisition that will transform BP's US Lower 48 business. BP also agreed to increase its stake in the Clair oilfield in the UK while exiting the Greater Kuparuk Area in Alaska.
Downstream reported strong first half refining performance, with record levels of crude processed at Whiting refinery in US; further expansion in fuels marketing, with more than 1200 convenience partnership sites now across our retail network.
Advancing the energy transition: acquisition of UK's largest electric vehicle charging company Chargemaster and investment in innovative battery technology firm StoreDot move forward BP's approach to advanced mobility.
Gulf of Mexico oil spill payments in the quarter were US$0.7 billion on a post-tax basis.
Net debt reduced in the quarter by US$0.7 billion to US$39.3 billion.
BP's share buyback programme continued with 29 million ordinary shares bought back in the first half at a cost of US$200 million.
Read the article online at: https://www.worldpipelines.com/business-news/31072018/2q18-bp-results/
You might also like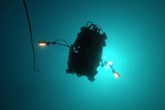 Voyis and Deep Trekker, have joined forces to achieve the successful fusion of Voyis' Discovery Camera with Deep Trekker's REVOLUTION ROV.