---
ZEDEDA, the leader in edge orchestration, has announced it recently concluded 2022 with annual revenue growth of 300% and nodes under management growth of 250%, emphasising the rising strategic importance of edge computing to companies across all industries and verticals.
"Edge computing has become a critical part of a company's digital transformation journey," said Said Ouissal, Founder and CEO of ZEDEDA. "By unlocking insights from real-time production and machine data, edge computing is a key enabler of Industry 4.0 – the fourth Industrial Revolution – marked by cloud-native workloads at the edge."
In July, ZEDEDA closed its Series B funding with a broad range of new and existing investors, including Coast Range Capital, Lux Capital, Energize Ventures, Almaz Capital, Porsche Ventures, Chevron Technology Ventures, Juniper Networks, Rockwell Automation, Samsung Next, and EDF North America Ventures.
Over the past 12 months, ZEDEDA has demonstrated tremendous business performance and growth, including:
Significant customer growth
Rockwell Automation chose ZEDEDA as a key technology supplier for its upcoming edge management offering, which allows users to manage edge devices, orchestrate applications, and improve access to manufacturing data. ZEDEDA will enable Rockwell Automation's software portfolio at the distributed edge to serve a rapidly growing market segment.
VMware announced a multi-year OEM agreement where ZEDEDA will provide distributed edge management and orchestration capabilities as part of VMware Edge Compute Stack. The combination of ZEDEDA with VMware Edge Compute Stack will help customers extend their edge deployments to the device edge with a consistent experience at scale.
Emerson integrated ZEDEDA's edge management and orchestration offer into its DeltaV™ automation system, enabling Emerson customers to extend DeltaV to the distributed edge. Expanding the relationship between Emerson and ZEDEDA will deliver enhanced OT solutions while also continuing into the IT environment, providing software-defined automation and revolutionising how customers can deploy and connect workloads within their distributed environments.
Advantech and ZEDEDA debuted a new combined solution for Connected Oilfield Systems to help streamline and reduce costs in oil and gas field operations. Supported by the latest in Intel processing technology, the joint Advantech and ZEDEDA solution is available through Arrow Electronics.
Switch Automation turned to ZEDEDA to solve its operating system management and deployment challenges in providing innovative edge solutions for digital buildings.
"As companies embrace digital transformational change, we see great promise for ZEDEDA's cloud-native solution to modernise edge computing in industrial environments," said Thurston Cromwell, Vice President of development and innovation and head of Emerson Ventures. "ZEDEDA is a great example of what Emerson Ventures looks for in a strategic partner."
Strengthening the leadership team
To help guide ZEDEDA through this period of exponential growth, the company built out its executive team with several key hires and promotions:
Erik Nordmark, a Co-Founder of the company, was promoted to Chief Technology Officer.
Paul Campaniello joined as Vice President of Marketing to oversee all aspects of global marketing and communications.
Michael Maxey was hired as VP of Business Development to help customers and partners accelerate and simplify the deployment of applications at the edge.
Michael Pearl transitioned to a new role as VP of OEM and Embedded Sales to focus on ZEDEDA's rapidly expanding customer base in the OEM and embedded markets.
Ryan Hesson was brought on as VP of Enterprise Sales to lead ZEDEDA's growth in the enterprise market.
Launching a channel programme
ZEDEDA created a channel partner programme to enable a secure and scalable orchestration solution for edge environments. Channel partners can accelerate the scale and breadth of their customers' edge deployments, accelerating the recognition of new revenue streams and receiving generous discounts off list pricing.
"Our channel partners are looking to drive new revenue opportunities and move edge projects from the lab to the field," said Darren Kimura, ZEDEDA's Chief Operating Officer. "The programme smooths the path for customers to move edge projects into production efficiently."
Creating edge academy, the industry's first learning centre for edge computing
The ZEDEDA Edge Academy debuted as the industry's first free online hub with educational resources on edge computing. Self-paced video tutorials explain the unique challenges of distributed edge computing and how ZEDEDA can digitally transform operations with edge solutions.
Recognised for corporate and product excellence
With a strong corporate culture and standout products, ZEDEDA captured the attention of tech and IoT publications for their top awards. Among the highlights of 2022:
Named as one of the Best Places to Work in the Bay Area by San Francisco Business Times. To join the team, check out ZEDEDA's current job openings.
Finished second in the Startup of the Year rankings for San Jose in a poll conducted by Hacker Noon.
IoT Evolution recognised ZEDEDA for Product of the Year and for IoT Edge Computing Excellence.
IoT Breakthrough named ZEDEDA as its IoT Partner Ecosystem of the Year.
Read the article online at: https://www.worldpipelines.com/business-news/31012023/zededa-announces-2022-as-a-record-year/
You might also like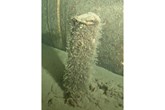 Denmark invites Gazprom to help salvage unidentified object found close to only remaining intact gas pipeline under Baltic Sea.