---
Trans Mountain Corporation (TMC) has posted to its website the company's financial statements and associated management report for the three and six-month periods ending 30 June 2019. The company's financial results were also included in Canada Development Investment Corporation's consolidated quarterly financial statements.
TMC recorded net income of CAN$74.7 million and Adjusted EBITDA of CAN$49.2 million for the three months ended 30 June 2019 and net income of CAN$87.1 million and Adjusted EBITDA of CAN$97.7 million for the six months ended 30 June 2019. Total throughput on the pipeline for the six-month period averaged approximately 314 000 bpd and throughput to Washington State on the Puget pipeline averaged approximately 200 000 bpd for the period.
"Trans Mountain's second quarter performance built on the strong start to the year both operationally and financially. Our health and safety measures continued to outperform industry rates, a testament to the strong culture of safety responsibility within the organisation," said Ian Anderson, President and CEO of Trans Mountain Corporation. "The Government of Canada's approval of the Trans Mountain Expansion Project in June brought us one step closer to restarting construction this year. We expect to begin mobilising and hiring in British Columbia and Alberta later this summer, once the necessary approvals and requirements are in place."
On 18 June 2019, the Governor in Council approved the Expansion Project and directed the NEB to issue a new Certificate of Public Convenience and Necessity. On 19 July 2019, the NEB announced that its decisions and orders issued prior to the August 2018 Federal Court of Appeal decision will remain valid unless the NEB determines that relevant circumstances have substantially changed. Trans Mountain is prepared to restart construction activities this summer. Capital expenditures on the Expansion Project are expected to total approximately CAN$1.6 billion in 2019. Additional expenditures of approximately CAN$86 million are expected on other capital projects and asset retirements, up from its March forecast of CAN$58 million due to incremental work on pump station optimisation on TMPL.
Read the article online at: https://www.worldpipelines.com/business-news/30082019/trans-mountain-corporation-releases-results/
You might also like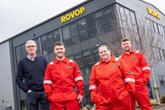 ROVOP focused on producing the 'next generation' of ROV pilots, adds three new trainees to its training programme.