---
Reuters are reporting that France, Spain and Portugal agreed on Friday to increase the links between their energy networks, aiming to reduce the Iberian peninsula's isolation from European electricity and gas markets and to boost energy security.
At a summit in Lisbon, the leaders of the three countries pledged to boost alternative energy sources and routes, including liquefied natural gas (LNG), at a time that Europe is facing pressure to reduce its reliance on gas from Russia.
Identifying risks to Europe's energy supplies, the three underlined "the importance of LNG to diversify the sources and routes of EU energy supply, with a view to reducing dependence and thereby strengthening energy security," according to a joint statement.
One possibility is the development of gas pipelines between Spain and France, over the Pyrenees, to pump gas from North Africa or elsewhere, officials said.
French President Emmanuel Macron told journalists that regulators were considering "the relevance of new gas interconnections, and in particular a gas interconnection between France and Spain."
He added that such a pipeline could make economic sense as France turns away from coal plants.
Friday's main concrete achievement was an agreement to build an electricity line under the Bay of Biscay from northern Spain to south-west France. It will receive €578 million (US$675 million) from the European Commission, the biggest such investment by Europe in an energy project.
By 2025, the electricity link should raise Spain's energy interconnection capacity close to the European target of 15%, from 6% currently.
The European Union has set a target that member states should have at least 15% of their electricity output connected to other countries' networks.
"I think this meeting clearly shows our firm commitment to the (European) energy union," Spanish Prime Minister Pedro Sanchez told journalists.
European Commission President Jean-Claude Juncker said in a statement that boosting energy interconnections between the three countries was a step towards "strengthening the security of energy supply across Europe."
The US is trying to sell LNG to Europe, possibly through Portugal's southern Sines deepwater port. For that gas to reach Europe's biggest northern economies, network connections would be necessary between Iberia and France.
Portugal is actively pushing to develop the potential of Sines.
Read the article online at: https://www.worldpipelines.com/business-news/30072018/france-spain-and-portugal-aim-for-greater-energy-co-operation/
You might also like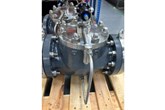 Oxford Flow expands its product range and grows market potential with new high- and low-pressure pilots.