---
On 27 January 2020, Sergey Shotsky was appointed Vice President of Transneft, in charge of design and capital construction matters.
Born in 1972, Sergey comes from the city of Omsk. He holds a degree in engineering. In 1997, Mr. Shotsky graduated from the Novosibirsk Water Transport Academy, and in 2006 from the Tyumen State Oil and Gas University.
Sergey started his career at the Sokur LODS operated by Sibtransneftproduct. Later on, he took key executive positions in various Transneft subsidiaries. His total track record in oil and petroleum products transportation exceeds 15 years. He also worked in senior positions for large industrial firms. Prior to his appointment as Vice President of Transneft, he had been CEO of GEOTECH Seismic Services.
In 2012, he earned a commendation from Transneft.
Aleksey Sapsay, who previously held this post, will continue working in the Transneft system as Head of Moskvagiprotruboprovod, a subsidiary.
Read the article online at: https://www.worldpipelines.com/business-news/30012020/sergey-shotsky-named-vice-president-of-transneft/
You might also like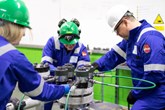 3t EnerMech named regional winner at top engineering awards for the second year in a row.