---
A combined value of US$91.9 billion in mergers and acquisitions (M&A) was announced in 3Q18. This was an increase of 21% from the US$75.9 billion in M&A deals announced in the previous quarter. The number of M&A deals decreased by 20% from 102 in 2Q18 to 82 in 3Q18, according to GlobalData, a leading data and analytics company.
The company's latest report: 'Quarterly Midstream Capital Raising Review – Q3 2018' states that, of the total M&A deals, 58 deals, with a combined value of US$83.6 billion, were domestic acquisitions and the remaining 24, with a combined value of US$8.2 billion, were cross-border transactions. A quarter-on-quarter comparison shows a 12% decrease in cross-border transaction values in 3Q18, compared to US$9.3 billion in 2Q18. However, domestic transaction values increased by 26% in 3Q18 compared to US$66.5 billion in 2Q18.
Energy Transfer Equity's (ETE) agreement to acquire the remaining stake in Energy Transfer Partners (ETP) for a purchase consideration of approximately US$60.4 billion was the top deal registered in 3Q18. Another landmark deal that was recorded in 3Q18 was Enbridge's agreement to acquire all of the outstanding public Class A common units of Enbridge Energy Partners, all of the public outstanding shares of Enbridge Energy Management, and all of the issued and outstanding shares of Enbridge Income Fund Holdings, for a purchase consideration of US$7.1 billion.
Americas remained the frontrunner for M&A registering 33 deals, with a total value of US$82.1 billion in 3Q18. Cross-border activity in the region decreased from 9 in 2Q18 to 6 in 3Q18, while domestic acquisitions decreased by 43% from 47 deals in 2Q18 to 27 in 3Q18.
The Europe, Middle East, and Africa accounted for 37% share in 3Q18, comprising 31 acquisitions, of which 10 were cross-border and the remaining 21 were domestic acquisitions. The Asia-Pacific region accounted for 20 global deals, or 24% in 3Q18, of which 10 were cross-border acquisitions and the remaining 10 were domestic acquisitions.
Read the article online at: https://www.worldpipelines.com/business-news/29102018/midstream-mergers-and-acquisitions-for-3q18/
You might also like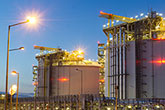 Prices pick up slightly but continue to remain deflated worldwide; prices did not respond as they did in 2022 despite disruption of gas pipeline supplies in Europe by multiple maintenance works.