---
TransCanada Corporation yesterday announced that it has replenished the capacity available under its existing CAN$1.0 billion, or its US$ equivalent at-the-market equity programme (ATM Programme). This will allow the company to issue additional common shares from treasury (Common Shares) having an aggregate gross sales price of up to CAN$1.0 billion, for a revised total of CAN$2.0 billion, or its US$ equivalent (Amended ATM Programme), to the public from time to time at the company's discretion, at the prevailing market price when sold through the Toronto Stock Exchange, the New York Stock Exchange (NYSE) or on any other existing trading market for the Common Shares in Canada or the US. The Amended ATM Programme, which is effective to 23 July 2019, will be activated at the company's discretion if and as required based on the spend profile of TransCanada's capital programme and relative cost of other funding options.
Sales of the Common Shares through the Amended ATM Programme will be made pursuant to the terms of an amended and restated equity distribution agreement dated 28 June 2018 the company has signed with TD Securities Inc., TD Securities (USA) LLC, BMO Nesbitt Burns Inc., BMO Capital Markets Corp., J.P. Morgan Securities Canada Inc. and J.P. Morgan Securities LLC (collectively, the Agents).
Sales of Common Shares will be made through 'at-the-market distributions' as defined in National Instrument 44-102 – Shelf Distributions on the TSX, the NYSE or on any other existing trading market for the Common Shares in Canada or the US. The Common Shares will be distributed at the prevailing market prices at the time of the sale and, as a result, prices may vary among purchasers and during the period of distribution.
The Amended ATM Programme is being made pursuant to the company's base shelf prospectus dated 23 June 2017, as amended 25 June 2018, and pursuant to prospectus supplements dated 26 June 2017 and 28 June 2018. Copies of these documents are available on SEDAR and EDGAR.
This news release shall not in any circumstances constitute an offer to sell or a solicitation of an offer to buy, nor shall there be any sale of these securities in any jurisdiction in which an offer, solicitation or sale would be unlawful prior to the registration or qualification under the applicable securities laws of any jurisdiction.
With more than 65 years' experience, TransCanada is a leader in the responsible development and reliable operation of North American energy infrastructure including natural gas and liquids pipelines, power generation and gas storage facilities. TransCanada operates one of the largest natural gas transmission networks that extends more than 91 900 km (57 100 miles), tapping into virtually all major gas supply basins in North America. TransCanada is a leading provider of gas storage and related services with 653 billion ft3 of storage capacity. A large independent power producer, TransCanada currently owns or has interests in approximately 6100 MW of power generation in Canada and the US. TransCanada is also the developer and operator of one of North America's leading liquids pipeline systems that extends approximately 4900 km (3000 miles), connecting growing continental oil supplies to key markets and refineries. TransCanada's common shares trade on the Toronto and New York stock exchanges under the symbol TRP.
Read the article online at: https://www.worldpipelines.com/business-news/29062018/transcanada-replenishes-capacity-available-under-atm-equity-programme/
You might also like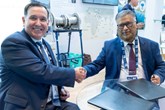 The partnership is to bring critical flange isolation offerings for the Kingdom of Saudi Arabia.