---
ExxonMobil is managing unprecedented market challenges from the COVID-19 pandemic while preserving long-term shareholder value, Chairman and Chief Executive Officer Darren Woods told shareholders during the company's annual meeting.
"Despite the current volatility and near-term uncertainty, the long-term fundamentals that drive our business remain strong and unchanged," Woods said during the meeting, which was held virtually to reduce health risks from the pandemic. "Our objective is to strengthen the structure and earnings power of our business through industry-advantaged projects to provide a solid foundation for generating cash, reliably growing the dividend and maintaining a strong balance sheet."
In response to market conditions, ExxonMobil announced in April that it would be reducing its 2020 capital spending by 30%, to approximately US$23 billion, and lowering its cash operating expenses by 15%. Woods said the company has identified opportunities to reduce capital expenditures without compromising project advantages or returns.
"We've adjusted our business plans in response to market conditions, and are working hard to ensure we maintain the value of our portfolio of industry-leading opportunities," he said. "While these are uncertain times, some things remain unchanged – including the fundamentals that underpin our business, our long-term plan, and commitment to grow value for shareholders."
Woods thanked the company's workforce for quickly adapting and adjusting manufacturing operations to deliver much-needed raw materials to assist medical professionals and first responders fighting COVID-19 on the front lines.
"There is no question that times like these demonstrate the vital role our company and our industry play in modern life," said Woods. "It has been inspiring to see the actions of our people who are stepping up to help fight this virus and its effects, all while continuing critical operations."
ExxonMobil has increased production of specialty polypropylene – used to make medical gowns and masks – and isopropyl alcohol, the key ingredient in medical-grade hand sanitiser and other disinfectants.
Operations at its Baton Rouge, LA, site were reconfigured to produce, blend, package, and distribute medical-grade hand sanitiser for donation to health care providers and first responders across the US. And it supported development of third-party production of safety equipment that can be sterilized and worn multiple times to help alleviate shortages.
Woods provided an overview of ExxonMobil's performance in 2019, when the company delivered earnings of more than US$14 billion, achieved first oil production in Guyana, increased Permian production volumes nearly 80%, and began a multi-year exploration program offshore Brazil. In the Downstream, ExxonMobil brought three major refining projects online in Antwerp, Rotterdam and Beaumont. Its chemical operations broke ground on four major projects across Baytown, Baton Rouge and Corpus Christi.
He also outlined ExxonMobil's continued efforts to address society's dual challenge of providing affordable energy necessary for economic growth while reducing emissions. The company is investing in new technologies that could provide more affordable, lower-carbon energy and has focused on three sectors – commercial transportation, power generation and industrial processes – which together account for about 80% of global CO2 emissions.
In commercial transportation, ExxonMobil is working to develop advanced biofuels from algae and cellulosic biomass. Efforts to reduce emissions in power generation and industrial involve reducing the cost of carbon capture and storage and capturing CO2 directly from ambient air.
Since 2000, ExxonMobil has invested nearly US$10 billion in projects to research, develop and deploy lower-emission energy solutions. The company also continues to expand collaborative efforts with more than 80 universities, five energy centres and multiple private sector partners around the world to explore next-generation energy technologies.
During the meeting, shareholders re-elected all of the directors serving on ExxonMobil's board, supported the company's executive compensation programme, ratified PricewaterhouseCoopers LLP as independent auditors and supported board recommendations on six shareholder-led proposals. The proxy voting results will be made available on the company's website.
Read the article online at: https://www.worldpipelines.com/business-news/29052020/exxonmobil-outlines-long-term-plans-at-annual-shareholder-meeting/
You might also like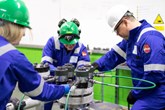 3t EnerMech named regional winner at top engineering awards for the second year in a row.