---
Chevron Corporation has provided an overview of the company's work to respond to the COVID-19 pandemic at its 2020 annual meeting of stockholders.
This year's meeting was virtual in place of an in-person event due to safety concerns related to the pandemic.
"Our thoughts are with those affected by COVID-19 and the healthcare workers on the front lines battling to contain the outbreak," said Michael Wirth, Chevron's Chairman and CEO.
The energy industry's continued operations are necessary to ensure the security, safety, and health of all communities and critical to efforts to respond to the pandemic. The company's biggest challenges are to ensure safe access to its facilities and continuity of operations. Chevron is successfully running essential facilities at operational levels necessary to meet current demand. The company is taking strong precautionary measures to reduce the risk of exposure, including screening workers and visitors at these locations.
"We activated our pandemic response plan in January, and have continued to adapt as events have unfolded," Wirth said. "I am proud of our workers who show up every day to keep energy flowing into the economy."
Commodity prices have fallen significantly due to the destruction of demand resulting from the COVID-19 pandemic and the over-supply of crude oil. The company expects its financial results will be depressed as long as current market conditions persist.
"Chevron is responding to these unprecedented challenges by making changes to what we can control," Wirth said. "It's always good to hear from our stockholders. We hope the meeting today left them with a deeper understanding of how we've advanced the business over the past year and our plans for the year ahead."
Read the article online at: https://www.worldpipelines.com/business-news/29052020/chevron-corp-provides-overview-of-its-response-to-covid-19/
You might also like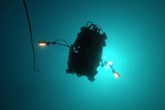 Voyis and Deep Trekker, have joined forces to achieve the successful fusion of Voyis' Discovery Camera with Deep Trekker's REVOLUTION ROV.