Sandvik launches first nickel-iron-chromium alloy in bar and hollow bar
Published by Aimee Knight, Editorial Assistant
World Pipelines,
---
Sandvik, a developer and producer of advanced stainless steels, special alloys, titanium and other high-performance materials, has launched Sanicro® 825, Sandvik's first-ever nickel-iron-chromium alloy in bar and hollow bar, for improved performance in corrosive, high-temperature environments.
Sanicro 825 (UNS NO8825) extends the company's growing Sanicro portfolio of nickel alloys and austenitic stainless steels for aggressive wet, corrosive and high-temperature, pressure, acidic and seawater conditions.
A high-strength alloy with minimum 40% nickel content, Sanicro 825 has excellent corrosion resistance to acids and alkalis, superior resistance to stress corrosion cracking (SCC) and good corrosion resistance to phosphoric, nitric, sulfuric, and organic acids, seawater, caustic chloride alkalis and ammoniac media.
Stable, easy to machine and weld, the new alloy is ideal for use in a wide range of components and installations including heat exchangers, evaporators, offshore piping systems, seawater coolant, valves and flanges. It serves a multitude of industries including oil and gas, chemical, petrochemical, pulp and paper, pickling equipment, nuclear fuel processing and food processing.
Available in three- to seven-meter lengths with an outside diameter (OD) ranging from 20 mm -260 mm, Sanicro 825 offers a cost-effective alternative to superalloys such as Alloy 625 and Alloy 718. Its chemical formulation has been tailored within EN, UNS and ASTM standards.
"Sanicro 825 opens new high-performance possibilities for our customers. At elevated temperatures and in corrosive conditions, this new grade offers clear advantages to standard stainless steel or duplex grades and is more cost-efficient than some superalloys," said Martin Holmquist, Business Development Manager, Sandvik Materials Technology.
"While we naturally adhere to all industry standards, Sanicro 825 is no ordinary grade. At Sandvik, we strive to set a 'standard within the standard', which means consistently adhering to even tighter tolerances on the chemical composition than those technically required. This is true for Sanicro 825, which we've further tailored and optimised to find the sweet spot for bar and hollow bar," said Marcus Hillbom, Technical Marketing Manager & Sales, Sandvik Materials Technology.
"With a long tradition in R&D for some of the most demanding industries around the world, Sanicro 825 builds on Sandvik's 60-year legacy of making premium, high-alloy Sanicro for corrosive and high-temperature environments," said Henrik Zettergren, Global Product Manager, Sandvik Materials Technology.
Read the latest issue of World Pipelines magazine for pipeline news, project stories, industry insight and technical articles.
World Pipelines' April 2021 issue
The April issue of World Pipelines includes a regional report on oil and gas pipeline activity in the Gulf of Mexico, along with technical articles on corrosion prevention, unpiggable pipelines and repair and rehabilitation. Don't miss the article on hydrogen pipelines!
Read the article online at: https://www.worldpipelines.com/business-news/29042021/sandvik-launches-first-nickel-iron-chromium-alloy-in-bar-and-hollow-bar/
You might also like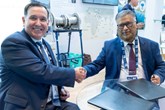 The partnership is to bring critical flange isolation offerings for the Kingdom of Saudi Arabia.