---
The release of the Resource and Energy Quarterly report March 2021 shows again the resilience of the Australian oil and gas industry in the face of the COVID-19 pandemic and the role it plays in supporting the economy.
APPEA Chief Executive Andrew McConville said the data reminded Australians of the critical contribution of the oil and gas industry.
"Australia's Oil and LNG exports earnings are forecast to increase from AUS$40.2 billion in 2020 - 21 to AUS$61.2 billion in 2025 - 26, an increase of more than 52 per cent as prices recover," Mr McConville said.
"Australia's oil and gas industry is helping ensure we keep the lights on at home, and our hospitals and other public facilities operating, by continuing to deliver energy to the domestic market."
APPEA's members are working through their contingency planning to ensure that they continue to produce and deliver gas to market – whether it be for export or for use here at home.
"The oil and gas industry underpins around 80 000 direct and indirect jobs – and hundreds of thousands of Australian jobs rely on the reliable, affordable and sustainable supply of oil and gas," Mr McConville said.
"The Australian oil and gas industry has always taken its obligations to the domestic market very seriously and will ensure it continues to supply Australian households and businesses.
"At the same time, our exports will be an important contributor the Australia's economic growth, a contribution that will be vital as Australia looks over time to recover from that challenging circumstances, both in terms of COVID-19 and its effect on global energy markets, we now face."
Read the latest issue of World Pipelines magazine for pipeline news, project stories, industry insight and technical articles.
World Pipelines' March 2021 issue
The March 2021 issue of World Pipelines includes: a regional report on pipeline projects in Asia-Pacific; a summary of the latest and best construction equipment courtesy of the annual Heavy Equipment Review; a welding-focused Q&A; and technical articles on hot tapping, sustainable steel and decommissioning.
Read the article online at: https://www.worldpipelines.com/business-news/29032021/resource-and-energy-quarterly-march-report-2021/
You might also like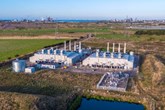 This is the first customer that has been announced for Kellas Midstream's H2NorthEast Teesside hydrogen project.