---
Negotiators with the Office of the U.S. Trade Representative (USTR) may be preparing to recommend import quotas on the specialised steel that comes from Mexico and Canada. This is a bad idea rife with unintended consequences, writes John Tintera, President, Texas Alliance of Energy Producers.
Steel is critical to oil and gas production. Without readily available steel the Texas economic miracle could quickly grind to a halt. That will eventually mean less production, less national energy security, less taxes, and fewer jobs.
Oil and gas producers are already struggling to maintain operations as they deal with the 25% tariff on imported steel. Additional financial burdens imposed by trade negotiations will hamstring the industry even more. These burdens must be avoided.
The Texas Alliance of Energy Producers supports the Administration's focus on national energy security. However, we cannot endorse policies that will likely threaten Texas prosperity.
This is not a just a major or integrated oil company issue. This is an oil field issue that will eventually impact every Texas producer of any size, every service company, every tax collector, local, state, or federal, and every oilfield worker in Texas.
Our oilfield communities are where our truck drivers, welders, rig hands, and many other oilfield workers live. Their employment depends on a healthy domestic oil and gas industry with unfettered access to the specialised steel the Texas oil industry requires.
It would be reckless to threaten the dramatic oil field success story in response to the economic challenges steel faces after years of feckless government inaction. Do not throw the baby out with the bathwater. Please do not impose tariffs on oilfield steel imports.
Read the article online at: https://www.worldpipelines.com/business-news/28112018/oilfield-steel-import-quotas-are-the-wrong-solution/
You might also like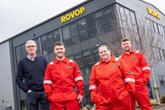 ROVOP focused on producing the 'next generation' of ROV pilots, adds three new trainees to its training programme.