---
ROSEN is constantly striving to strengthen its position as an inspection company, which includes broadening its business to become as versatile as possible. With more than 35 years of experience in the field of industrial testing methods, for several years ROSEN has been offering extensive competence to the steel industry by providing testing solutions for the production lines of semi-finished products.
In the past few years, pipeline operators have gained an enhanced awareness about the effect that changes in material properties can have on the integrity of their assets. This is evident in the increasing number of inquiries that ROSEN's Industrial Diagnostics has received from steel manufacturers who wish to test for hard spots in heavy plates (i.e. increased localised hardness in the steel) during their production.
In response, the ROSEN Group teamed up with the renowned Fraunhofer Institute in Saarbrücken, Germany (IzfP), with which they had many successful partnerships in the past. The focus of this newly formed team was to determine micromagnetic testing methods for the investigation of changes within the material properties of steel. The ultimate goal was the successful validation of the IzfP's advanced sensor technology.
An active and open dialogue played an essential role in setting the pace for another successful and efficient partnership between the IzFP and ROSEN. This project included a refinement of an existing sensor design, its communication and compatibility with the ROSEN electronic components, and the development and implementation of the analysis algorithms for the application in the plate mill plants.
The successful partnership resulted in an exclusive license agreement for ROSEN's application of the IzFP sensor technology for heavy plate inspections. With this project, ROSEN has added yet another business segment to its portfolio: hard spot testing of heavy plates in steel mills.
Read the article online at: https://www.worldpipelines.com/business-news/28112017/successful-sensor-development-for-steel-industry/
You might also like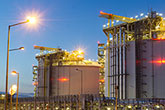 Prices pick up slightly but continue to remain deflated worldwide; prices did not respond as they did in 2022 despite disruption of gas pipeline supplies in Europe by multiple maintenance works.