---
ROVOP (Aberdeen, Scotland), one of the leading suppliers of subsea Remotely Operated Vehicles (ROVs) to the energy industry, has added three new trainees to its highly sought-after training and competency programme for those looking to join the offshore industry.
Roland Reid, Training & Competency Manager at ROVOP, says: "We are thrilled to have attracted three young trainees to join our brilliant trainee programme – they have real enthusiasm for our industry and to be the next generation of ROV pilots. We have committed to bringing in the very best people and our trainees will learn first-hand the skills necessary to work across both the traditional and renewable energy divisions."
ROVOP's ROV trainee training programme is a mix of theory and practical sessions and follows IMCA guidelines IMCA R 002 and IMCA R 010, taking place over a period of 15 days. This includes three, 12-hour shifts on an in-house ROV simulator in preparation for their time offshore.
Upon completion of the 15-day programme, trainees transfer to the workshop where they will actively participate in maintenance of ROV systems, thus building on their competencies to get set for offshore life.
The trainee programme is overseen by Roland Reid, Trainee & Competency Manager at ROVOP, who was appointed earlier this year bringing with him more than 30 years of industry experience.
Reid says: "I am so proud that we are able to provide this high-class programme to ambitious individuals who have a real enthusiasm for the industry.
"These skills are vital for the energy sector of today and tomorrow and are highly transferrable between traditional and 'new' energy.
"Of course, we want our people to have the highest levels of expertise, competency and efficiency and these are the key principles of this programme. We also want our industry to continue to diversify and grow and this requires insight from our young people and varied workforce. It really is an exchange of knowledge between one generation to another."
Luke Jamieson, Maureen Morgan and Rhys Simpson are the trainees who have been selected from a high volume of applications, coming from construction, telecommunications, and mechanical backgrounds, all with a mix of academic and workplace experience.
Rhys Simpson, ROVOP Trainee, said: "My main highlights of this programme have been the whole concept of being a part of an offshore team and being able to pilot an ROV in a real-life situation. I loved my first trip offshore and couldn't wait to get away again. I am currently working on a WROV mobilisation out in Cyprus, and it's great to be working in an international location so soon after joining ROVOP.
"The programme prepared me with a greater understanding of what it would be like working offshore. The simulator was a great help and gave us an idea of what it would be like operating a work class ROV system. The other trainees and I carried out three days of 12-hour shifts to give us an idea of what the offshore working environment would be like and the piloting times involved."
Read the article online at: https://www.worldpipelines.com/business-news/28092023/rovop-adds-three-new-trainees-to-its-programme/
You might also like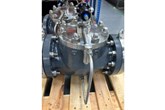 Oxford Flow expands its product range and grows market potential with new high- and low-pressure pilots.