---
Saudi Aramco yesterday participated in the Saudi-US CEO Forum held in New York to promote bilateral business and cooperation between the two countries. The Forum was scheduled to coincide with the official visit to the US by HRH Crown Prince Mohammed bin Salman.
During the Forum, a number of cooperation arrangements and prospective commercial collaborations were discussed. Speaking at the Forum, Saudi Aramco President and CEO Amin H. Nasser said:
"We have enjoyed a long and successful relationship with our US partners since the discovery of oil in Saudi Arabia more than 80 years ago, and it is a pleasure to be here among so many friends whom are all looking to explore and develop opportunities for commercial, industrial and economic cooperation between the Kingdom and the US, which we hope will achieve exceptional success during the next 80 years to serve future generations."
He added: "The growth of Saudi Aramco's operations and the strategic roll out of Saudi Vision 2030 will provide multiple opportunities for strengthening our collaboration and partnerships, not only in the oil and gas, refining and chemicals sector but also includes digital technologies and cooperation in the field of environmental conservation, climate change and the development of innovation through the establishment of relations with a group of leading American institutions in the academic, research and cultural, which are among the best in the world. We are also looking at cooperation in infrastructure, manufacturing and services industries; all of which the US is distinguished for, and critical to managing and operating as well as growing an enterprise of Saudi Aramco's scale."
Nasser also stressed that the commercial cooperation discussed reflected the range and ambition of Saudi Aramco's interests, consolidating its status as the world's preeminent energy and chemicals company, and reflecting its role not only as a major industrial company but as a pioneer of global development thinking, characterised by the application of best practices and consolidating the historical friendship with many partners.
During the Forum, Nasser participated in a panel discussion on Giga projects. He discussed the new generation, each having a system of interrelated projects, covering a broad scope of work and complexities, involving financial costs tens of billions.
"It takes an extended period of time for these mammoth undertakings to be completed, resulting in significant transformation in the areas where they are implemented, and offers enormous opportunities for action, partnerships and investment," he said.
Nasser also spoke on Saudi Aramco's experience in the management and implementation of Giga projects, starting with the Shaybah development project, which came online producing 1 million bpd; moving to the gigantic Sadara project; the mega Jazan Refinery project; the King Salman International Complex Maritime Industries and Services project; and the game-changing King Salman Energy Park (SPARK).
He also urged industry players to define a set of the most important elements of success that should be considered in the development of projects of this scale as among the advantages that make a distinctive and successful planning for Giga projects to be potentially implemented in Saudi Arabia.
The commercial collaborations discussed at the Forum included:
Schlumberger Ltd: A corporate purchase agreement for downhole equipment and services and wellhead and surface control equipment.
Baker Hughes, a GE Company: A corporate purchase agreement for downhole equipment and services.
Halliburton: A corporate purchase agreement for downhole equipment and services including well and rig services.
Saudi Aramco Nabors Drilling (SANAD): An onshore drilling agreement.
Weatherford: A corporate purchase agreement for downhole equipment and a well testing services contract.
ARO Drilling: An offshore drilling services agreement.
Emerson Electric Company: A corporate purchase agreement for process automation systems, remote terminal units and control values.
Texas Iron Works: A corporate purchase agreement for downhole equipment services.
Honeywell International Inc.: A contract for Main Automation Contractor (MAC) services for a new Process Control System (or upgrade of existing ones).
Raytheon Company: An MoU to develop cybersecurity services.
Google Cloud: An MoU to jointly explore potential establishment of cloud services.
National Geographic: An MoU to initiate a new relationship targeting multiple media future collaborations.
Smithsonian Institute: An MoU to conduct joint research and scientific knowledge and the environment, sharing initiatives in addition to cooperation in cultural, content and curatorial partnerships.
Centre for Strategic and International Studies: An agreement to advance joint research projects.
Read the article online at: https://www.worldpipelines.com/business-news/28032018/saudi-aramco-announces-commercial-cooperation-with-14-us-companies/
You might also like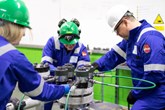 3t EnerMech named regional winner at top engineering awards for the second year in a row.