---
Equitrans Midstream Corporation (ETRN) and EQM Midstream Partners, LP (EQM), have announced the following actions and information, along with ETRN's pro forma financial and capital expenditure forecast:
EQM and EQT Corporation (EQT) executed a 15-year gas gathering agreement covering Pennsylvania and West Virginia.
Minimum Volume Commitment (MVC) steps-up to 3.0 billion ft3/d and incremental MVC increases begin with Mountain Valley Pipeline's (MVP) in-service.
Present value, using 10% discount rate (PV10), of MVC revenue is approximately US$2.1 billion higher under new 15-year gathering agreement than under prior MVCs with EQT.
ETRN forecasts greater than 70% of total revenue from firm reservation fees and MVCs beginning in 2021.
EQT benefits include the ability to optimise combo development, lower per unit costs over time, and easing of approximately US$250 million of letter-of-credit posting requirements.
ETRN will purchase and retire 25.3 million shares of ETRN common stock from EQT for US$52 million of upfront cash, with the remaining consideration, which represents US$196 million PV10, to be paid through reduced gathering fees in the two years following MVP's in-service.
ETRN to acquire all outstanding public EQM common units in a 100% share-for-unit transaction, approved by the EQM Conflicts Committee, in which each outstanding public common unit of EQM would be exchanged for 2.44 shares of ETRN common stock.
ETRN intends to pay a US$0.60 per share annual dividend, which allows the company to quickly de-lever and provides significant forecasted cash flow after total capital expenditures and dividends.
ETRN forecasts US$1.8 billion of cumulative free cash flow and US$1.0 billion of cumulative retained free cash flow, each a non-GAAP supplemental financial measure, over 2021 - 2023.
"Today is a transformational day for E-Train. We are taking actions designed to rapidly and materially strengthen our balance sheet," said Thomas F. Karam, ETRN Chairman and Chief Executive Officer. "We have executed a 'blend, broaden, and extend' contract with EQT, which will strengthen our partnership and position both companies for success over the long-term.
"In addition, we are simplifying our structure to a single C-Corp, as well as acquiring 25.3 million shares of ETRN from EQT. As a single C-Corp entity, E-Train will have transparent corporate governance, a larger investor base, and will strive to be among the leading ESG companies in the midstream sector," Karam continued.
Diana Charletta, ETRN President and Chief Operating Officer, added "The new gathering agreement with EQT replaces over a dozen separate gathering agreements and serves to strengthen our ongoing partnership, a scenario that will be beneficial for both companies now and in the future. By simplifying our relationship, EQT can effectively execute their combo-development strategy, which in turn will lead to improved ETRN capital efficiency through better planning and optimised system designs. Equitrans' world-class operations, coupled with our remarkably stable cash flows, simple structure, and transparent path forward supports our ongoing commitment to deliver shareholder value."
Commercial agreements with EQT
Gas gathering agreement
EQM and EQT have executed a gas gathering agreement that includes an increase in MVC, the addition of over 100 000 undeveloped core West Virginia acres, a contract extension, enhanced capital investment protections, and gathering fee relief limited to the three years following the MVP in-service date. The gas gathering agreement is effective immediately and covers existing volumes and future development across EQT's core acreage positions in Pennsylvania and West Virginia. Gathering fee relief is estimated to impact cash flow by approximately US$125 million, US$140 million, and US$35 million, in the three years following MVP's in-service, respectively.
Pennsylvania water MVC
EQM and EQT have agreed to a five-year water services MVC covering Pennsylvania that is projected to generate US$60 million of annual firm water revenue. The water MVC will commence upon MVP's in-service. The annual Pennsylvania water MVC revenue is approximately US$20 million/y higher than the previously projected annual Pennsylvania water revenue.
Henry Hub Upside
EQM and EQT have agreed to a structure in which EQM will receive cash flow when NYMEX Henry Hub natural gas prices exceed certain thresholds. For the three years following MVP's in-service, but in no case extending beyond December 2024, EQM is entitled to receive from EQT an amount, in cash, equal to the product of the MVC and 15% of every US$0.01/million Btu that the average quarterly NYMEX Henry Hub settlement price is above US$2.50/million Btu and, if applicable, above US$2.70/million Btu during 2024. The annual cash payment is capped at US$60 million/y.
Read the article online at: https://www.worldpipelines.com/business-news/28022020/equitrans-midstream-announce-transformative-actions/
You might also like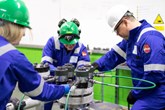 3t EnerMech named regional winner at top engineering awards for the second year in a row.