---
ADENCO Water Management & Civil Engineering, a company that has served Australia's resource and commodity industries since its inception in 2015, has joined RSK Australia. The development sees RSK Australia reinforcing its rapid expansion programme with a new focus on Western Australia.
RSK Australia is part of the RSK Group, a global leader in the delivery of sustainable solutions. Its 2030 global strategy will see the business nearly quadruple its turnover from £1.2 billion this year to more than £5 billion in 2030, doubling its family of environmental and engineering businesses from 200 to 400 and increasing its headcount from 12 000 employees in 40 countries today to 40 000 people over the next seven years.
Over that same period, RSK Australia is expected to increase its turnover from AUS$240 million to AUS$1.4 billion, with its Australian workforce growing from 450 to 5000.
RSK Australia is committed to significant growth through acquisition and organically, and this emphasis has seen it add Pensar, SJA, Projence, WPS, EDP, Binnies Australia and RSK Labs to its impressive list of companies over the past two years.
RSK Australia Managing Director Mark Haydock said: "The decision by ADENCO to join RSK Australia represents another important step in supporting our purpose to help our clients progress towards a resilient, future-ready Australia.
"RSK Australia is entering the mining sector in one of the largest mining regions globally, but we have the advantage of being able to draw on the considerable skills and experience of RSK's global family of mining businesses, including Projence and Amphos 21. Crucially, in line with our vision to be leaders in sustainable solutions, we will use these extensive skills, experience and commitment to innovation to deliver these solutions to the mining sector."
Haydock said that the addition of another significant water business (alongside Binnies and Pensar) adds momentum to RSK's local and global plans to be leaders in the delivery of sustainable solutions in the water sector.
He added: "Expanding our geographic footprint to Western Australia is a pivotal step in line with our vision to deliver a complete service of environmental and engineering services nationwide and providing opportunity for RSK Australia businesses to expand into the west."
ADENCO Managing Director Christoff van der Schyff, who will continue to lead the business, said: "The decision for ADENCO to join RSK Australia marks a significant milestone driven by our shared strategic objectives. This move is underpinned by our collective ambition to not only elevate our service offerings to our clients and the mining sector but also to strategically position ourselves for substantial growth."
ADENCO has its headquarters in Perth, Western Australia, and employs a skilled team of 145 professionals, including project managers, quantity surveyors and civil, mechanical and electrical engineers.
The company's clients include Rio Tinto, BHP and Roy Hill. Recent projects have included the Zulu 6 In-Pit Tailings Storage Facility project for Roy Hill, Rio Tinto's HD1 South Pit Transfer Pond and Pumping Station project and a range of dewatering infrastructure projects for BHP. All these projects have involved civil, mechanical, structural and electrical work, piping, testing and commissioning. ADENCO is also recognised for its dewatering work, which involves the repurposing and treating of water and returning it to the aquifer.
Image: Christoff van der Schyff, Managing Director, ADENCO
Read the article online at: https://www.worldpipelines.com/business-news/27092023/adenco-joins-rsk-australia/
You might also like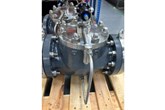 Oxford Flow expands its product range and grows market potential with new high- and low-pressure pilots.