---
The Siemens SGT-700 gas turbine has entered the Chinese distributed generation market for the first time. The company will work with Aero Engine Corporation of China (AECC) to supply two units of SGT-700 gas turbines to a distributed energy station project run by Guangzhou Development Group Co., Ltd. (GDG) in Taiping Industrial Park, Guangzhou. This project is expected to go into operation in the second half of 2019.
"With the continuous optimisation of the energy mix, China will usher in a boom of efficient and environmentally friendly natural-gas distributed energy," said Yao Zhenguo, Executive Vice President of Siemens Ltd., China, General Manager of Power and Gas Division Greater China. "Siemens will combine its global experience with our localised business model to enable Chinese customers to adopt the company's advanced gas turbine technologies, enjoy great economic benefits, and contribute to the development of a green economy in China."
The gas-steam combined cycle unit uses natural gas as its fuel. When it begins operation, it will meet the industrial park's electricity and heat demand and cut energy consumption and emissions. This will help the customer respond to the national policy of vigorously developing natural gas distributed energy while reducing energy costs.
With reliability of above 99%, Siemens' SGT-700 gas turbine boasts not only sturdiness and ease of maintenance but also a long and stable lifespan. Thanks to its high fuel flexibility, low emissions, high exhaust heat, and easy maintainability, the turbine is widely used in the utility, oil and gas, and industrial power generation markets.
Distributed generation is being embraced in China. At the end of this March, a draft version of the Management Method for Distributed Generation was written by the National Energy Administration. In the draft, issues like policy, technology, the market, and retail were all included. The policy will create a wider market space for distributed generation.
Read the article online at: https://www.worldpipelines.com/business-news/27042018/siemens-to-supply-first-sgt-700-gas-turbine-to-chinas-distributed-generation-market/
You might also like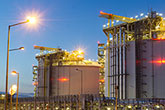 Prices pick up slightly but continue to remain deflated worldwide; prices did not respond as they did in 2022 despite disruption of gas pipeline supplies in Europe by multiple maintenance works.