---
Enbridge Inc. and Baker Hughes, a GE company have launched testing of new, next-generation ultrasonic phased array pipeline inspection tool sensors designed to enhance accuracy and identification of crack features and to deliver greater detail on the condition of a pipeline. The testing phase follows 14 months of development of a multi-year research and development project to advance pipeline inspection tool sensor technology and, ultimately, pipeline safety.
"At Enbridge, nothing matters more to us than safety, and investing in projects like this helps drive safety and reliability performance to new levels," said Walter Kresic, Enbridge's Vice President Pipeline Integrity. "Proactive investments in innovation and technology like this are intended to add another layer of safety to our pipeline networks and ultimately, benefit the industry as whole."
Similar to MRI or ultrasound technology used in the medical industry, pipeline inspection tool sensors provide the ability to detect and accurately characterise anomalies that could affect the health of a pipeline. The next generation of inspection tools will provide more accuracy and higher resolution, enabling better maintenance and an overall improvement on the assurance of pipeline safety.
"Partnering with BHGE on this project demonstrates Enbridge's commitment to investing in leading technology solutions to drive enhanced pipeline safety," says Michael Bellamy, Vice President of Process & Pipeline Services at Baker Hughes, a GE company. "BHGE has a strong track record of partnership with our customers to help support their safety, technology and productivity goals, and this joint project is no different. Next-generation sensor technologies will make a significant contribution to Enbridge's pipeline integrity objectives." The next generation of phased array sensor technology will represent a significant step change in pipeline inline inspection, enabling a more comprehensive assessment of the threats to pipeline integrity. The sensors are mounted on a robotic inspection device, commonly referred to as a 'Smart Pig', which travels along the inside of a pipeline, measuring the condition of the pipe wall as it goes. BHGE and Enbridge have been working successfully together on developing and deploying solutions for pipeline safety for more than 20 years.
Read the article online at: https://www.worldpipelines.com/business-news/26072018/enbridge-and-bhge-partner-to-drive-enhanced-pipeline-safety/
You might also like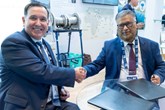 The partnership is to bring critical flange isolation offerings for the Kingdom of Saudi Arabia.