---
Energy Transfer LP (ET) and Shell US LNG, LLC (Shell) have signed a Project Framework Agreement (PFA) that provides the framework to further develop a large-scale LNG export facility in Lake Charles, Louisiana toward a potential final investment decision (FID). In addition, the parties have started actively engaging with LNG engineering, procurement and contracting (EPC) companies with a plan to issue an Invitation to Tender (ITT) in the weeks ahead.
The Lake Charles LNG project brings together two leading entities – Shell as a worldwide leader in gas and LNG, and Energy Transfer as one of the largest pipeline operators in the US – to advance a project to monetise abundant, low-cost US gas for export to global customers.
"We are pleased to be moving forward with Shell in progressing this major LNG export project," said Tom Mason, President, Lake Charles LNG, an Energy Transfer subsidiary. "We believe the combination of our assets and Shell's LNG experience will create a platform for exporting natural gas from the US Gulf Coast to the global marketplace that is unmatched."
"Lake Charles presents a material, competitive liquefaction project with the potential to provide Shell with an operated LNG export position on the US Gulf Coast by the time global supply is expected to tighten in the mid 2020's," said Frederic Phipps, Shell's Vice President, Lake Charles LNG. "Our partnership with Energy Transfer plays to our respective strengths. Together, we are expertly positioned to advance a project that could provide customers in Asia, Europe and the Americas with cleaner, reliable energy for decades to come."
The PFA defines the commercial terms by which the two companies will work toward delivering an LNG export facility on the US Gulf Coast. Shell will act as the Project Lead prior to the companies reaching an FID, and if sanctioned, as construction manager and operator of the facility. Energy Transfer will act as Site Manager and Project Co-ordinator prior to FID. The decision to make an affirmative FID to proceed with construction of the project will be subject to both companies' assessment of the outcome of the EPC bidding process, overall project competitiveness and global LNG market conditions at the time of such decision.
The Lake Charles project is a 50/50 venture between Energy Transfer and Shell. The project, if sanctioned through an affirmative FID, would convert Energy Transfer's existing Lake Charles LNG import and regasification terminal to an LNG export facility with a liquefaction capacity of 16.45 million tpy to export US natural gas to global customers. The project is fully permitted, uses existing infrastructure and benefits from abundant natural gas supply and proximity to major pipeline infrastructure, including Energy Transfer's vast pipeline network. If built, the project is estimated to create up to 5000 local jobs during construction and 200 full-time positions when fully operational.
Energy Transfer LP
ET owns and operates one of the largest and most diversified portfolios of energy assets in the US, with a strategic footprint in all of the major US production basins, ET is a publicly traded limited partnership with core operations that include complementary natural gas midstream, intrastate and interstate transportation and storage assets; crude oil, natural gas liquids (NGL) and refined product transportation and terminalling assets; NGL fractionation; and various acquisition and marketing assets. ET, through its ownership of Energy Transfer Operating, L.P., formerly known as Energy Transfer Partners, L.P., also owns the general partner interests, the incentive distribution rights and 28.5 million common units of Sunoco LP, and the general partner interests and 39.7 million common units of USA Compression Partners.
Shell
Shell has been a pioneer in LNG for more than 50 years and is involved in every stage of the LNG value chain: from finding the fields, extracting the gas and liquefying it; to shipping LNG and turning it back into gas; to distributing it to customers. Shell has LNG supply projects around the world, as well as interests in and long-term capacity access to regasification plants. Shell US LNG, LLC is a wholly owned subsidiary of Royal Dutch Shell plc.
Read the article online at: https://www.worldpipelines.com/business-news/26032019/energy-transfer-and-shell-sign-agreement/
You might also like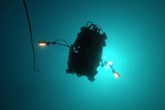 Voyis and Deep Trekker, have joined forces to achieve the successful fusion of Voyis' Discovery Camera with Deep Trekker's REVOLUTION ROV.