---
The Fibre Optic Sensing Association (FOSA), the USA's premier trade association dedicated to fibre optic sensing, has congratulated Dr. Kenichi Soga and the University of California, Berkeley on its award from the US Department of Transportation Pipeline and Hazardous Materials Safety Administration (PHMSA).
PHMSA awarded the University of California, Berkeley with US$250 000 from its Competitive Academic Agreement Program (CAAP). FOSA member Dr. Soga is the Donald H. McLaughlin Chair in Mineral Engineering and a Chancellor's Professor at UC Berkeley. Their recent research activities can be found on the Soga Research Group, Berkeley Engineering website.
UC Berkeley will use the funding to examine the feasibility of using a new measurement system they have developed for long-term monitoring of buried gas pipelines that are potentially vulnerable to ground deformation across faults and landslides. The CAAP programme supports university research and technological developments by graduate and PhD students that will improve the safety of the nation's energy pipelines and promote industry investment in these solutions. The system developed by UC Berkeley will be tested at a PG&E site, and a commercialisation plan for the system for pipeline monitoring will be developed thereafter.
In PHMSA's grant announcement PHMSA Administrator Skip Elliott stated, "The grants…continue to be an essential part of PHMSA's commitment to protecting Americans. These grants will help states and communities develop specific solutions to meet their individual safety needs regarding hazardous materials and pipeline safety challenges."
"This is a great reminder that FOSA maintains a repository of pre-screened Federal Government notices of funding opportunities for FOSA member's exclusive use," commented Mark Uncapher, Executive Director of FOSA. "This is a positive outcome of that effort and we hope to see more FOSA members benefit in the future."
Earlier this year a team of Lawrence Berkeley Laboratory and UC Berkeley was awarded two projects by the California Energy Commission. The US$2 million offshore wind project will be developing fibre optic sensor technology for monitoring gearboxes on floating wind turbines and detecting marine mammal activity near the turbine mooring lines. The US$1.5 million natural gas project will develop fibre optic sensor technology for monitoring the boreholes of underground natural gas storage reservoirs for degradation and corrosion, in collaboration with PG&E.
Read the article online at: https://www.worldpipelines.com/business-news/25082020/fosa-congratulates-uc-berkeley-on-grant-to-study-pipelines/
You might also like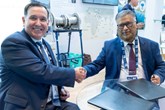 The partnership is to bring critical flange isolation offerings for the Kingdom of Saudi Arabia.