---
Candor Midstream, LLC has announced today that its SCOOP-to-North-Texas (SCOOP-NORTHTX) rich gas gathering pipeline system is open for commercial service. Recognising pipeline constraints within the SCOOP, Candor purchased the system in January 2019. To best serve producers, Candor made multiple upgrades to the pipeline system and has successfully completed comprehensive hydrostatic testing to certify its safe return to commercial service.
The system consists of approximately 100 miles of 20 in. rich gas gathering pipeline that originates in northern Carter County, Oklahoma and extends south across the Oklahoma-Texas border before it terminates near processing facilities located at the market centre in Bridgeport, Texas.
The SCOOP-NORTHTX pipeline has an initial operational capacity of up to 200 million ft3/d. Its strategic location in the heart of Oklahoma's SCOOP play provides regional producers with an immediate outlet to premium processing markets in north Texas, which helps bolster producer economics.
"The SCOOP-NORTHTX pipeline debottlenecks the region and offers rich gas gathering solutions and expansion opportunities that are specifically tailored to meet producers' individual needs in this unique area of Oklahoma and Texas," said Candor President and CEO Darrel L. Hagerman.
Candor Chief Commercial Officer Derek Gonseaux added, "The SCOOP-NORTHTX pipeline gives Candor the ability to provide unparalleled flow assurance with competitive and reliable processing and, most importantly, access to premium gas and NGL markets, which provide our customers with superior producer netbacks."
To enhance the pipeline and better serve producers, Candor constructed multiple risers for commercial rich gas receipts, upgraded equipment and added pipeline monitoring capabilities that exceed industry standards. "Our goal is to provide producers working in southern Oklahoma with safe and reliable long-term service that gathers their rich gas to premium markets in North Texas," Hagerman said.
Read the article online at: https://www.worldpipelines.com/business-news/24092019/candor-midstreams-rich-gas-gathering-pipeline-system-is-open/
You might also like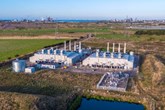 This is the first customer that has been announced for Kellas Midstream's H2NorthEast Teesside hydrogen project.