---
Enbridge Inc. (ENB) on behalf of itself and certain of its wholly owned US subsidiaries and Spectra Energy Partners, LP (SEP) has announced that they have entered into a definitive agreement under which Enbridge will acquire all of the outstanding public common units of SEP on the basis of 1.111 common shares of Enbridge for each common unit of SEP (Agreed Exchange Ratio). The Agreed Exchange Ratio represents a 9.8% increase to the exchange ratio offered by Enbridge on 17 May 2018 of 1.0123 Enbridge common shares per SEP common unit. The transaction is valued at US$3.3 billion/CAN$4.3 billion based on the closing price of Enbridge's common shares on the New York Stock Exchange/Toronto Stock Exchange on 23 August 2018.
Benefits and considerations for SEP unitholders
Significant weakening of the US master limited partnership (MLP) capital markets has adversely affected the growth opportunities for MLPs, including SEP. MLPs are dependent on consistent access to the capital markets at a reasonable cost of capital to grow their distributions. If SEP were to continue as a stand-alone entity in such an environment, it would be required to transition to a self-funding model using internally generated cash flow. SEP's priority would be to strengthen its balance sheet thereby limiting future distribution growth.
This transaction offers SEP public unitholders a superior investment proposition in Enbridge common shares, including:
Direct ownership in the largest energy infrastructure company in North America comprised of premium liquids transportation, natural gas transmission and natural gas distribution utility franchises that generate diverse, safe and reliable cash flows.
A secured growth profile which underpins expected 10% annual dividend growth through 2020 with substantially enhanced dividend coverage.
A more effective cost of capital to finance growth.
A stronger balance sheet and superior credit profile.
Reduction in risks related to continued uncertainty and potential unfavorable changes applied to MLPs related to the revised Federal Energy Regulatory Commission (FERC) tax policies.
Increased opportunity for further meaningful capital appreciation as Enbridge advances its strategic priorities.
Enhanced trading liquidity.
The transaction also provides SEP unitholders an attractive value reflecting, among other factors, the 18 July 2018 FERC Order on Rehearing, which clarified its revised policy on the treatment of income taxes for MLPs. The clarification could potentially improve SEP's position relative to its cost of service assets given the magnitude of SEP's historical deferred income tax balances, and is therefore uniquely positive for SEP among the Enbridge family of sponsored vehicles.
The transaction premium is attractive particularly in light of SEP's limited future capacity for distribution growth. Also, for SEP unitholders, the value received removes uncertainty overhang created by the FERC policy announcements.
Benefits and considerations for Enbridge shareholders
The buy-in of SEP is strategically and economically attractive to current and future Enbridge shareholders and provides substantial benefits, including:
Significant advancement of Enbridge's strategy to simplify and streamline its corporate structure which further increases the transparency of its strong cash generating assets.
An expected neutral impact on Enbridge's three year financial guidance through 2020 and positive benefits to Enbridge's post 2020 outlook primarily due to tax and other financial synergies.
Increasing ownership in its core businesses and further enhancing its industry-leading, low-risk profile.
An improved Enbridge credit profile due to the elimination of SEP public distributions, higher retention of cash to support self-funded growth and opportunities to minimise the structural subordination of Enbridge debt.
Reduction in risks related to uncertainty and potential unfavourable changes associated with regulatory tax policies applied to MLPs and potential incremental Enbridge support required by SEP in difficult capital markets.
No change to consolidated EBITDA following completion of the merger since the assets held by SEP are already managed and operated by Enbridge's US subsidiaries and consolidated for accounting purposes by Enbridge.
Read the article online at: https://www.worldpipelines.com/business-news/24082018/enbridge-to-acquire-all-public-equity-of-spectra-energy/
You might also like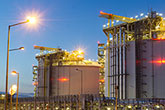 Prices pick up slightly but continue to remain deflated worldwide; prices did not respond as they did in 2022 despite disruption of gas pipeline supplies in Europe by multiple maintenance works.