---
Arundo Analytics, a software company enabling advanced analytics in heavy industry, today announced that it is providing Arundo Enterprise analytics software on the Veracity platform. This enables owners and operators of vessels and floating installations to deploy and manage enterprise-scale machine learning applications and integrate advanced analytics into business decision systems and processes.
"Ships and marine installations are highly-engineered, capital-intensive environments with significant opportunities to reap the benefits of digitalisation," said Mogens Mathiesen, Co-founder and Commercial Lead, Arundo Analytics. "Arundo is very excited to work with Veracity to support companies in this area as they transform operations through advanced analytics. Potential applications include real-time equipment anomaly detection and predictions to improve fuel performance, safety and other factors across a wide variety of scenarios."
A critical component of such advanced analytical solutions is the deployment of Arundo Edge Agent, software for streaming data and performing local computations and analytics in intermittently-connected environments such as marine vessels or remote sites. With Arundo Edge Agent, Veracity users are able to ingest data from ship control systems, or run analytics autonomously on local systems.
Customers are then able to deploy machine learning applications and other advanced analytical models within Arundo Enterprise in Veracity. This enables work on a variety of operational issues such as equipment maintenance, energy consumption or logistics and scheduling.
"Our platform is designed to help companies unlock, qualify, combine and prepare data for analytics and benchmarking," said BT Markussen, EVP of Veracity by DNV GL. "Together, with solutions like Arundo Enterprise, we have the capability to securely deploy advanced analytical applications against live data and integrate outputs into business decisions. This is a core goal for our customers."
Read the article online at: https://www.worldpipelines.com/business-news/24052018/arundo-analytics-unites-with-dnv-gls-veracity-platform/
You might also like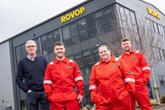 ROVOP focused on producing the 'next generation' of ROV pilots, adds three new trainees to its training programme.