DTEK commits to World Economic Forum's stakeholder capitalism metrics initiative
Published by Sara Simper, Editorial Assistant
World Pipelines,
---
DTEK was the first Ukrainian company to embark on a long-term business strategy based on the UN sustainable development goals and ESG (Environmental, Social, Governance) standards. On 20 January it announced its commitment to the principles of stakeholder capitalism and to further promote the convergence of existing ESG standards, frameworks and principles.
The World Economic Forum stakeholder capitalism metrics initiative, launched 20 January, is spearheaded by the Forum's CEO-led international business council (IBC), which is sponsoring the commitment and proposed it for signature for all Forum members and partners.
DTEK CEO Maxim Timchenko said, "DTEK wholeheartedly supports the principles of stakeholder capitalism and we are encouraging our business partners to join us in doing so. From today, DTEK will reflect the stakeholder capitalism metrics in its reporting to investors and other stakeholders."
The stakeholder capitalism metrics initiative addresses the need for consistent and comparable ESG metrics and disclosures. The IBC's ESG working group identified a core set of relevant ESG metrics and recommended disclosures that companies should reflect in mainstream reports on a comparable and consistent basis across industry sectors and countries. These stakeholder capitalism metrics, drawn from existing voluntary standards and frameworks, strengthen companies', investors' and consumers' ability to benchmark progress on sustainability matters. More than 100 companies have already supported this initiative.
"DTEK will promote the further convergence of existing ESG standards, frameworks and principals both in Ukraine and internationally. As the largest investor in Ukraine's renewable energy sector, we have a very important leadership role to play" added Mr. Timchenko. He also highlighted Ukraine's position as one of the developing countries that is already moving rapidly to meet its ambitious goal of reducing CO2 emissions by 65% from 1990 levels by 2030. "Given our geographical size, we have the potential to make a significant contribution to the decarbonisation of the European continent."
As well as being a member of the World Economic Forum's international business council, DTEK is also a member of the Forum's electricity industry action group.
Read the article online at: https://www.worldpipelines.com/business-news/24012022/dtek-commits-to-world-economic-forums-stakeholder-capitalism-metrics-initiative/
You might also like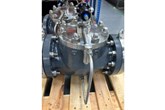 Oxford Flow expands its product range and grows market potential with new high- and low-pressure pilots.